16 Jul 2021
Defence Employer Recognition Scheme Gold Award honour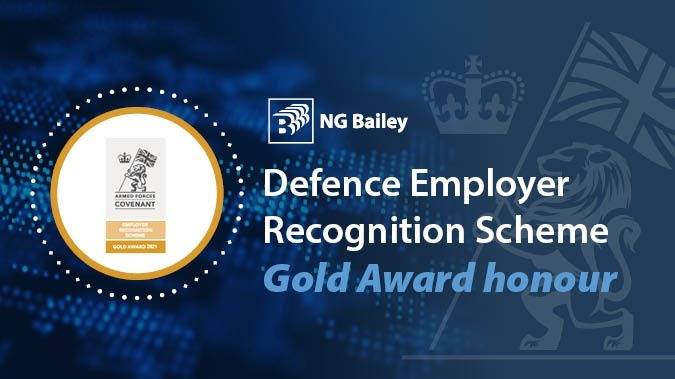 We are proud to be honoured with a Gold Award from the Ministry of Defence Employer Recognition Scheme for our work supporting the armed forces community.
We signed the Armed Forces Covenant in 2019 with a pledge to support the employment of veterans young and old, their spouses and partners and our employees who choose to be members of the Reserve or Cadet Forces. From initially receiving a Bronze Award from the Ministry of Defence Employer Recognition Scheme in early 2020 to receiving a Silver Award in September, we are really proud to be honoured with the prestigious Gold Award in 2021, our centenary year.
We currently employ more than 90 colleagues who are veterans, reservists, cadet forces volunteers or partners and spouses of serving men and women and we see the huge benefits recruiting ex-military, reservist or cadet forces personnel can offer us, as they have a breadth of aptitude, skills and training which are easily transferable and increasingly add real value to our business.
We have established strong partnerships with military groups and charities through which we offer work placements and the opportunity to join employability workshops to help those transitioning from military service into civilian work and we continue to advertise our career opportunities through the Career Transition Partnership, which is designed specifically for employers seeking to recruit ex-military personnel, and Forces Families, who offer training and employment opportunities for family members of currently serving UK military personnel. We have also pledged our support for Reserve and Cadet Force members both in supporting colleagues who wish to join as well as employing people who are already serving Reservists and Cadet Force Adult Volunteers.
We are always looking to see 'what can we do better' and despite the challenges of the last year, we have continued to provide internal Armed Forces networking opportunities and conduct quarterly workshops with our Armed Forces community to see how we can further develop and enhance our recruitment, careers, training and development opportunities, as well the experience we offer to our new starters.
Signing the Armed Forces Covenant has brought many benefits to our business and we believe it can also be beneficial to many other businesses too. If you would like to find out more about becoming a signatory of the covenant and becoming a forces friendly employer, then please click here.
If you would like to find out more about our current armed forces opportunities please click here.