M&E OPPORTUNITIES - CENTRAL LONDON
We have secured some exciting projects in central London and we're looking for talented and experienced mechanical and electrical workers to join our award-winning engineering team.
We're the largest independent engineering and services company in the UK and have built a reputation for delivering quality and excellence.
We are proud to have worked on a range of prestigious projects in the capital, including London Bridge station, Southbank Place, Wood Wharf, Crossrail and Northern Line Extension, amongst many others.
If you share our commitment to quality and excellence and would like to become part of our innovative and forward-thinking business, we would like to hear from you.
Where could you be working?
We have permanent opportunities to work on an innovative development in Southwark - The Forge, the world's first Platform Design for Manufacture and Assembly office building and the first of its kind in the UK.
We also have several other notable projects located in and around the capital, which require skilled mechanical and electrical workers.
So, if you live in or around London and would like to work locally, these are great opportunities.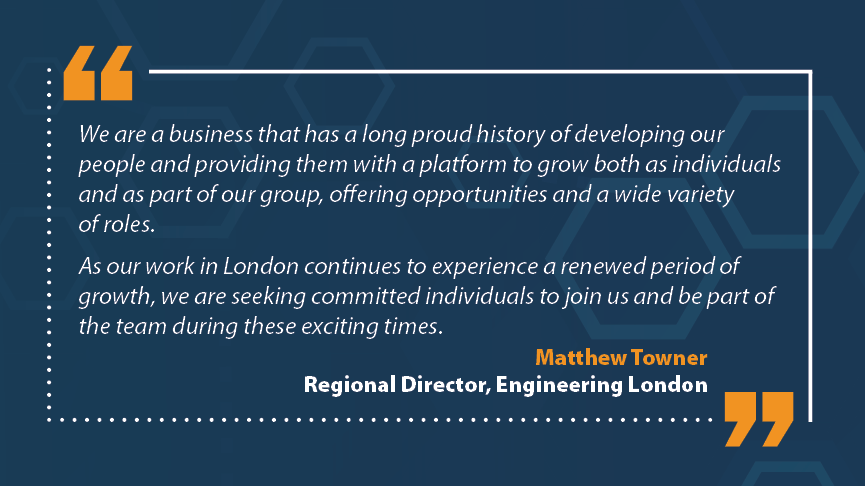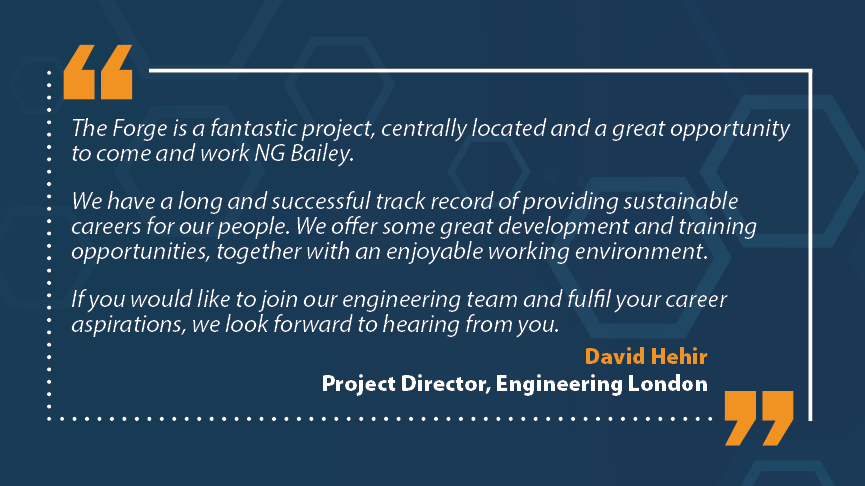 Who are we looking to recruit?
We believe in attracting, recruiting and retaining the best people. Our focus is on mechanical and electrical workers and we're looking for qualified and skilled people of all levels to register their interest in joining our teams:
Mechanical & Electrical supervisors
Approved electricians/electricians
Advanced craftsperson/pipefitters
Mechanical & Electrical labourers
What benefits would I receive?
Joining NG Bailey means you will enjoy the full range of JIB and BESA terms and conditions of employment.
These include:
Full time direct employment (PAYE)
Nationally negotiated rates of pay
Full employment rights from day one
32 days annual and statutory holiday paid at average earnings
Automatic enrolment into NG Bailey 'Worksave' pension scheme
Automatic entry into the relevant industry welfare scheme (sick pay, life assurance, accident insurance)
Fully covered for accident and death benefits
Participation in our Engineering Workforce Forum (employee forum)
Opportunities to progress your career
What our workforce has to say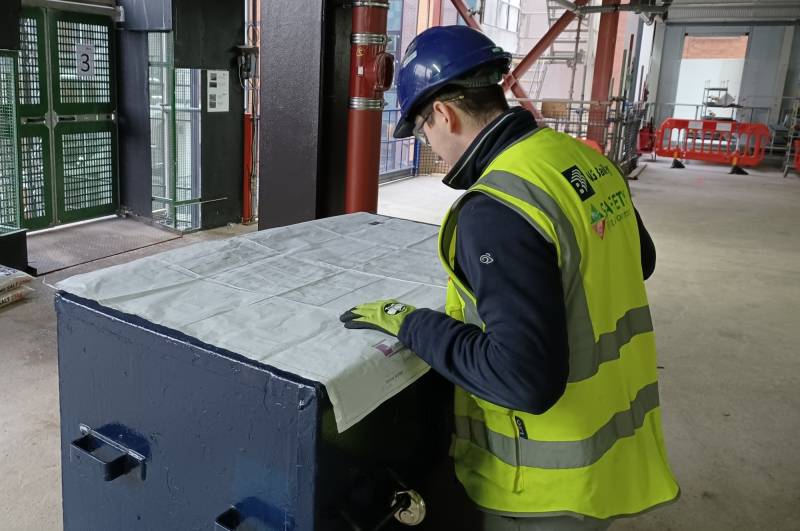 Chris Bolding
Currently works: London
My role: Electrical site supervisor – T3
My progression: I started my apprenticeship with NG Bailey in 2014, working on a range of engineering projects, including rail.
Throughout my eight years here, I have been given the necessary support, skills and training to progress my career and successfully took a step up into the role of site supervisor last year.
I am enjoying my career with NG Bailey, both the business and people within it have inspired and supported my career development. I'm looking forward to the future and what it has to offer.
Like how the above sounds? Register your interest with us
If you share our values of passion, integrity and excellence and would like to be a part of our M&E workforce, you can register your interest with us by completing our dedicated application form:
Please note – If you register for one of the specialist roles listed above, we may need to share your data with our subcontractor partners for individual projects. If you have any specific questions about how your data will be shared, please review our privacy notice at the foot of this page to find out more.