31 Oct 2023
NG Bailey selected to deliver £7.6m Bassetlaw Hospital Emergency Care Village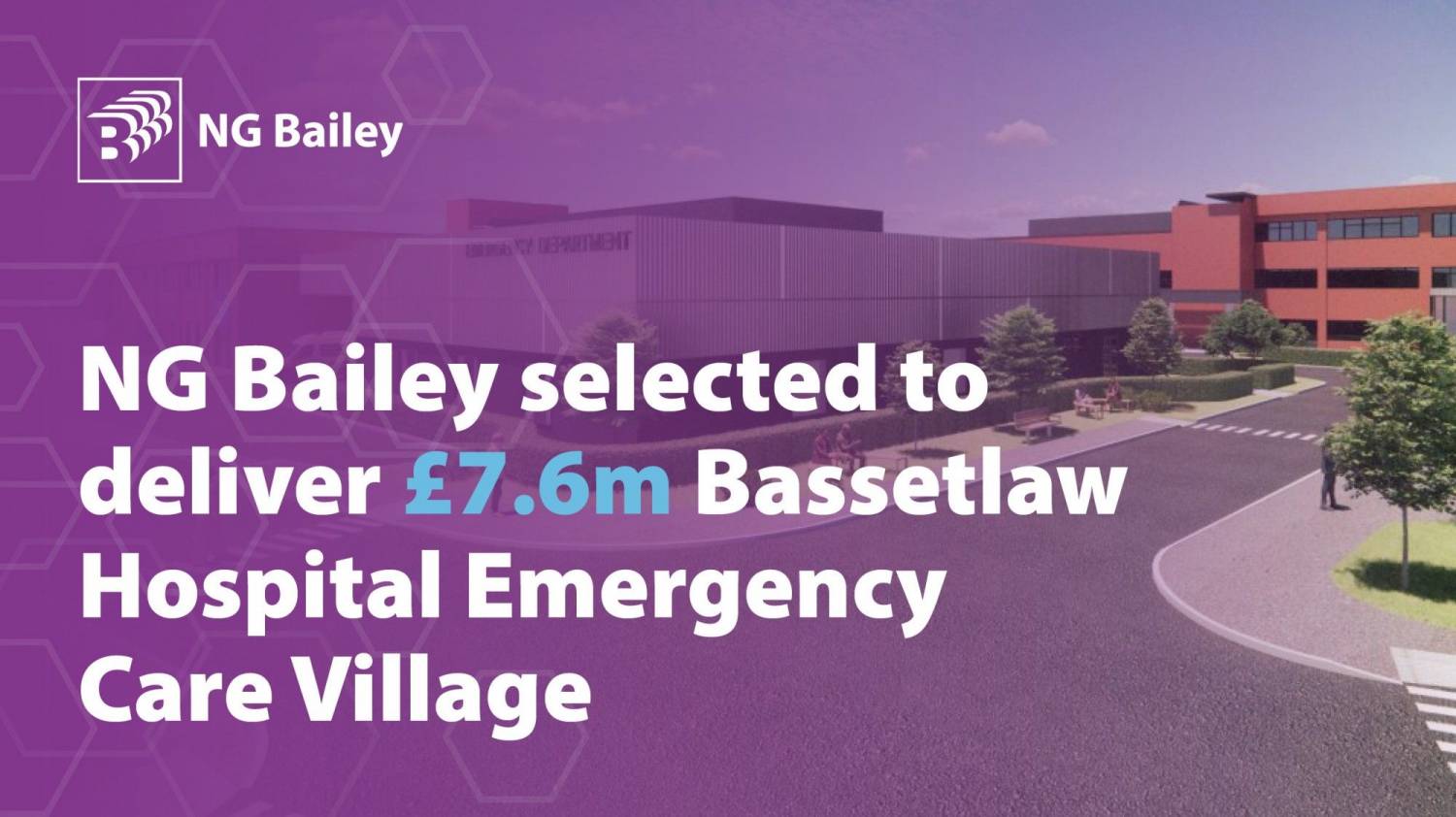 NG Bailey, the UK's largest independent engineering and services business, has secured a £7.6m contract to support the creation of a new build Emergency Care Village for Worksop and Bassetlaw Teaching Hospitals NHS Foundation Trust.
The contract will be undertaken in partnership with Integrated Healthcare Projects (IHP) and will see NG Bailey delivering all mechanical, electrical and public health installations on site. This includes the new Emergency Care Village, as well as the refurbishment of existing clinical and mental health accommodation to create a new Paediatric Assessment Unit and Acute Medical Unit at Bassetlaw Hospital.

NG Bailey and IHP have a long-standing partnership which has delivered many successful complex healthcare refurbishment and new build developments over the past ten years, including working on a new Urgent and Emergency Care Department for Chesterfield Royal Hospital NHS Foundation Trust in 2022.
A team of engineers, including apprentices, will be on site to support the delivery of the new development at Bassetlaw Hospital, which will increase the size of the Emergency Department and provide more accessible same day services. The work began in October this year, with the project due to be completed in summer 2024.
Modern Methods of construction are being widely used across the project and many of the service installations, including heavy duty bracketry and spools, plant room skids and distribution boards will be manufactured at NG Bailey's specialist Offsite Manufacture facility. By using offsite construction techniques, NG Bailey is able to speed up the manufacture and installation of equipment and reduce the impact of the works on the wider hospital estate.
The scheme will also be an all-electric design, to support the NHS's drive towards net zero by 2040, as well as building on NG Bailey's own commitment to its Net Positive responsibility strategy.
Patrick Morrison, Healthcare Sector Director at NG Bailey said: "We have a strong historical working relationship with IHP, so we're pleased to be continuing our partnership to deliver this important project, which supports our NHS and will create improved emergency care services in the region.
"We have extensive experience in delivering healthcare projects across the UK, working in live hospital sites where maintaining high standards of ongoing patient care is vital. We have worked closely with IHP throughout the preconstruction phases to help develop the design, driving innovative solutions and embracing modern methods of construction which will help accelerate delivery of the scheme, reduce carbon impact, and minimise disruption. We are looking forward to starting work on site soon and seeing the project complete next year."