22 Aug 2023
Preparing for the PSTN Switch Off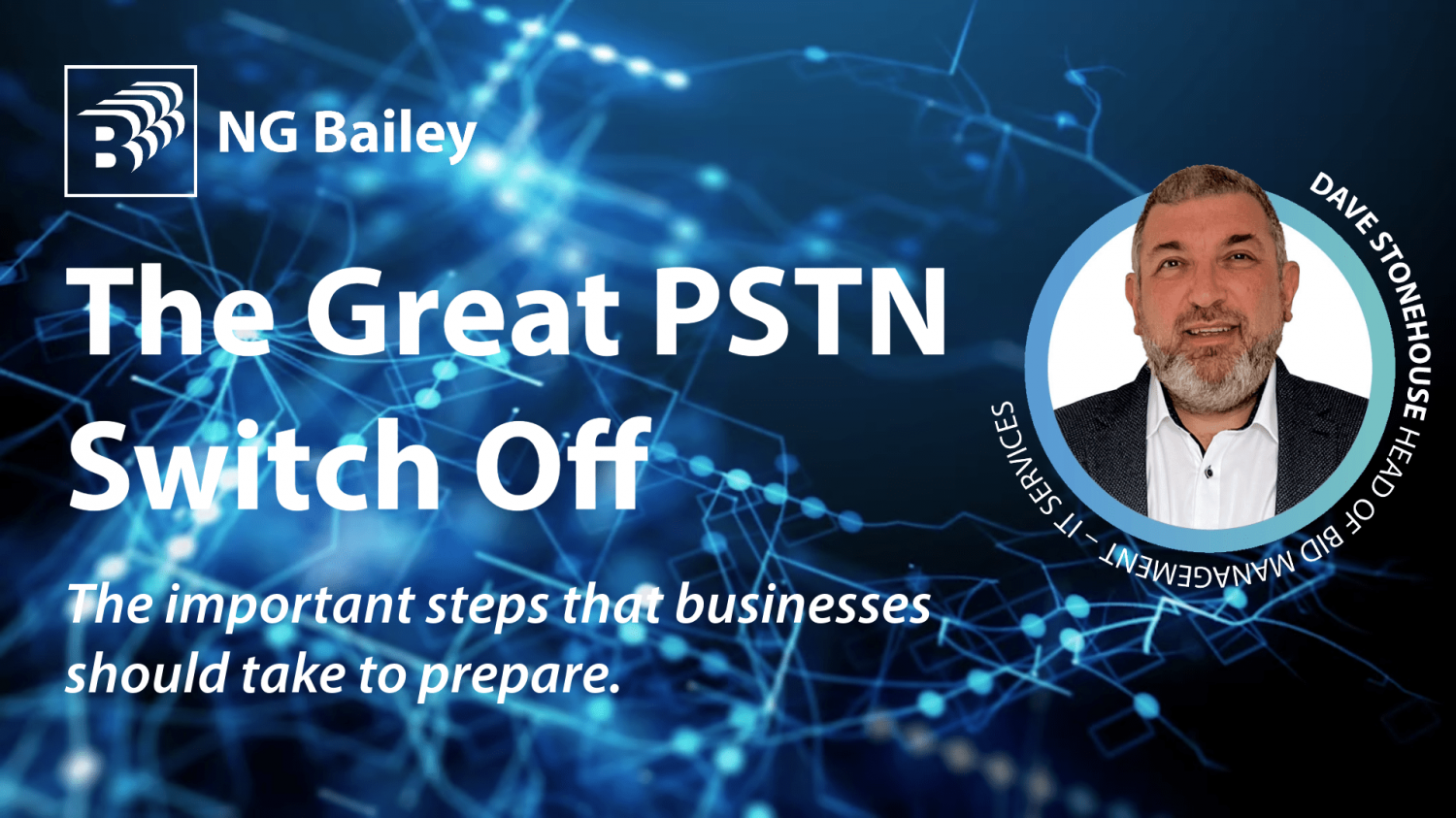 In the article below, Dave Stonehouse, Head of Bid Management at NG Bailey IT Services, talks about the Public Switched Telephone Network (PSTN) being switched off in 2025 and the stop-sell policy coming into effect in September.
The PSTN switch-off is coming in 2025, with a stop-sell from September this year, but many businesses are not prepared for this – and resellers have a vital job to ensure customers are not just aware of it but equipped to deal with it.

The public switched telephone network (PSTN) and Integrated Services Digital Networks (ISDN) have underpinned communications in the UK for many years, but the system has become outdated and is now in the process of being replaced by Voice IP Services.
The switch-off of the PSTN and ISDN networks is scheduled for 2025, but there is a stop-sell on related products from September 5, which means businesses should be acting now to make the move to digital services – but many are not.
"Businesses are not prepared for the switch-off and stop-sell," says Dave Stonehouse, head of bid management at NG Bailey IT Services. "Currently more than 700 exchanges already designated as stop sell exchanges, with more moving to this status. Despite this recent industry data showed 72% of businesses aren't making preparing for the transition a high priority.
"This matters because traditional phone connections do more than provide a dial tone. The lines form an integral part of a business' communications infrastructure.
"This transition is one of the most dramatic changes to the UK communications infrastructure in the past decade and could mean more than not being able to get online. In worse case scenarios your building entry system, lifts and CCTV could all stop working, while contact centres may fall silent and card payments or telephone banking services cease to function.
"Despite these ramifications many businesses are oblivious to the impending seismic change and are therefore not preparing for it.
"The stop-sell this September means that customers will not be able to purchase any new services or even modify existing services.
"Perhaps most importantly it stops the ability to switch service providers, which means some customers could be tied into the wrong service for them."
Preparing customers
Resellers should be helping customers to get ready for this – if they aren't already, Dave adds. "If businesses are not aware of or planning for this, they are already late, the transition could be complex and have significant impacts to the business operations such as outages and loss of services," he says.
"Resellers should be advising their customers of the lead times to implement the changes and the consequences and impact of the transition. For large organisations with complex call routing and multiple locations with legacy services this redeployment is not as simple as migrating to a Session Initiation Protocol (SIP)."
Dave adds that there are certain steps that should be followed. Firstly, BT Openreach should be contacted to find out when the switch-off is happening in that area and local exchange. "Then it's time to look at your connectivity requirements and consider the right solution for the business," he says. "For some it may seem as simple as switching to mobile data points, but this can create challenges within older buildings where there are 'blind spots' and will likely only solve a couple of the problems."
Dave adds that it isn't just about phone lines. "Consider how end points such as alarm systems interact with the exchange – is it direct via an analogue connection to the exchange, a dedicated ISDN-2 digital service or private branch exchange?" he says.
But this changeover should be viewed as an opportunity. "This change presents everyone with the chance to future proof their assets," Dave says. "This may mean moving processes virtually to the cloud, rationalising the technology investment or investing in solutions to deliver the benefits of Industry 4.0. This presents a chance to assess the hardware – what is currently used, no longer needed, potentially won't require, or may require more than ever moving forward. A solution shouldn't just solve the problem but be reactive to any future changes."
Auditing
Stephen McIntyre from Nimans says resellers need to be auditing their customers now to establish what connections their customers have and what they are being used for. "It may be that end users have a lot of redundant lines that can be ceased, so some cost savings can be made right away," he says. "Then it's a case of understanding the migration options, what services need to be retained and upgrading to SoGEA or FTTP as soon as possible.
"Resellers need to explain what the switch off means, what SoGEA and FTTP are as solutions and how voice will be delivered differently over these connections compared to PSTN/ISDN. Resellers need customers to establish which of their command line interfaces (CLIs) need to be retained. This is vital to avoid customers losing phone numbers and service. Resellers can also advise of the dates exchanges are due to move to full fibre.
"There are some limitations in some areas but generally with SoGEA having 97%+ UK footprint business can start to migrate now. However, we see the main problems being with the communication from Openreach. '2025' is so misleading in terms of timescales as in reality it's 2023. Resellers are also finding it hard to get around all their customers. There is also a cost to migrate from legacy solutions to fibre, either with an existing or to a new supplier."
SIP Trunking
Jono Darlington, collaboration solutions architect at Cinos, notes that the ISDN replacement is SIP Trunking, which will still provide PSTN connectivity, but delivered over an IP network rather than a physical copper cable. "SIP Trunking will continue to deliver inbound and outbound calls in the same way that ISDN has, but it allows for additional features and greater resilience and flexibility than traditional telephony.
"Switching to SIP Trunking gives organisations the option to futureproof their existing hardware and make it compatible with internet enabled telephony solutions. Once the PSTN is switched off, legacy telephones will no longer work, so if organisations are keen to keep their current equipment, then opting for SIP trunking is essential. This allows them to take advantage of integrated communications, including messaging, presence and video and enable organisations to integrate infrastructure across voice, connectivity and security, providing a robust network for internal and external communication.
"Experienced suppliers can deliver SIP channels into most on premise PBX environments, along with connectivity into cloud services such as Cisco Webex Calling or Microsoft Teams. This flexibility can allow a single PSTN service to be consumed even when an organisation is planning a migration to cloud telephony services. This in turn reduces the complexity of migration activities around Direct Dialling In porting, CLI presentation and reachability between platforms.
"For public sector organisations, SIP Trunking can be delivered over different types of connectivity, including but not limited to the internet, Health and Social Care Network, private data circuits or existing Multiprotocol Label Switching services in a highly resilient manner."
Jono adds that while the PSTN switch off may seem a long way away, getting prepared now is key to success.
"Organisations need to upgrade to internet solutions ahead of this deadline to ensure continuity of service," he says. "Looking at the services that need to be migrated now will avoid any last-minute panic or long-lead times for the installation of new services. Being aware of when Openreach's stop-sell policy will affect your local area and getting the right expert support will be key to future-proofing communications ahead of the switch off."