24 May 2023
The Great Switch Off – What you need to know and how to get ready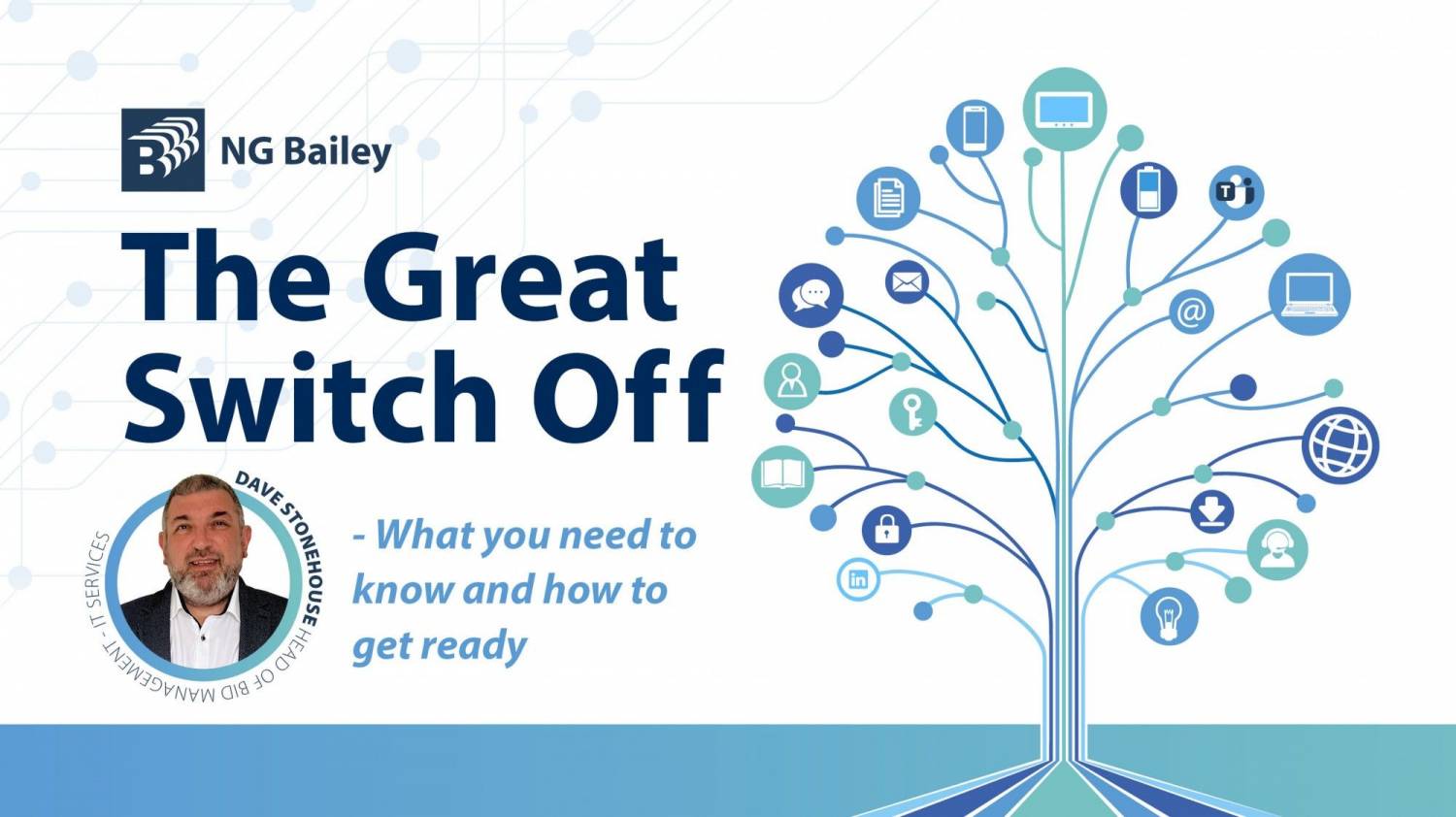 There's a big change coming - but according to recent industry data, almost three-quarters (72%) of businesses aren't making it a high priority.
By Dave Stonehouse, NG Bailey IT Services
A version of this article was originally produced for Facilitate Magazine in May 2023
There's a big change coming - but according to recent industry data, almost three-quarters (72%) of businesses aren't making it a high priority.

In December 2025 the UK's telephone network will change forever when Openreach turns off the traditional landline system - Public Switched Telephone Networks (PSTN) and Integrated Services Digital Networks (ISDN) – as part of the UK's move to digitise the network and shift to Voice IP Services.

You're probably asking why this matters? Well, put simply, those traditional phone connections do more than provide you with a dial tone. The lines form an integral part of all sorts of infrastructure - for your facilities, businesses, and buildings. December 2025 marks the hard deadline. Like it or not, the switch has already started and will accelerate over the next 24 months.

This transition is in fact one of the most dramatic changes to the communications infrastructure of the UK in the last decade and could mean more than not being able to get online. In worse case scenarios your building entry system, lifts, and CCTV could all stop working; while contact centres may fall silent and card payments or telephone banking services cease to function.

Despite these ramifications, many facilities managers and businesses are oblivious to the impending seismic change and are therefore not preparing for it.

So, what does the change mean in practical day-to-day terms for you and your business and how should you be preparing?

The key points for building and facilities managers to know is that come 2025 Openreach and all other telephone companies (telcos) will cease to take ISDN orders as they look to phase out the technology. This will not only force businesses to take alternative IP-based options for their phone systems but will also require technical changes to the infrastructure within buildings.

The 2025 date, however, is the final cut off and change is already underway with places such as Salisbury and Mildenhall having already seen their traditional exchange services cease.

At NG Bailey IT Services we're already working with large businesses across the UK to prepare for this change. This has seen the development of a four-step programme to help businesses prepare for the shake-up.

Step one
Before anything else, contact BT Openreach and find out when the switch-off is happening for your area and local exchange. Then it's time to look at your connectivity requirements and consider the right solution for your business, asset, or building. For some, it may seem as simple as switching to mobile data points, but this can create challenges within older buildings where there are 'blind spots' and will likely only solve a couple of the problems.

Step two
Audit what you're using your existing lines for. Typically, businesses have either cheaper ISDN-2 lines - these lines were often the preference for small businesses or those who wanted dedicated connections between two devices, or ISDN-30 lines which offer 30 channels and up to 10 direct dial-inwards (DDI) numbers per channel. The latter option is still prevalent in the market and means businesses often have either telephone exchanges or hosted solutions on their premises.
However, don't just look at phone lines. Consider how endpoints such as alarm systems interact with the exchange – is it directly via an analogue connection to the exchange, a dedicated ISDN-2 digital service, or a private branch exchange?

Step three
Don't approach this shift as a challenge but rather as an opportunity and seize it. This change is impacting all businesses, institutions, and organisations and presents everyone with the chance to future-proof their assets. This may mean moving processes virtually to the cloud, rationalising the technology investment, or investing in solutions to deliver the benefits of Industry 4.0. In fact, this presents a chance for facility managers, CTOs, and others to assess your hardware – what do you currently use, no longer need or potentially won't require, or actually may require more than ever moving forward. Ensure that you're investing in a solution that doesn't just solve the problem but will be reactive to any changes in the future.

Step four
Ultimately, the most important tip for all building, facilities, and workplace managers is to start preparing now – if you've not already – as 2025 is fast approaching and that is the hard stop. Whether the changes needed are minor such as on-site telephony or major such as changes to how lifts and alarms connect to systems, you need time to source, test and deliver the solutions which are right for you.

These tips form part of how we're encouraging our clients to approach this transition. We're focused on educating client teams on not only what the changes mean but also how by taking action now they can deliver long-term benefits.

It's important for building and facilities managers to remember they don't need to do this alone. As mentioned in the first point speak to BT Openreach and engage with them but also look to unified solutions providers such as ourselves.
At NG Bailey It Services, we're on hand with experts who are able to audit your existing telephony solutions and via a consultative approach, which takes into account your business goals, suggest the right solutions that we believe can have a transformational impact on your building, facility, or business.
If you want more information about what the Great Switch off could mean for you then please get in touch with our NG Bailey IT Services team via: Its.Customer.Service@ngbailey.co.uk
Read more about PSTN here.