20 Sep 2022
It's a winning night for Jess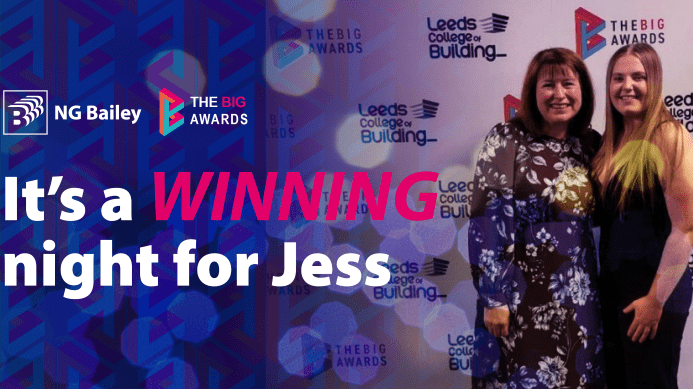 We'd like to congratulate third year heating and ventilation apprentice, Jess Baker, on her win at the Leeds College of Building Big Industry Greats (BIG) Awards.
Jess picked up the Sustainable Building Services Apprentice of the Year Heating and Ventilation/RAC award at last week's celebratory awards evening.
She has been undertaking the Building Services Engineering Craftsperson level 3 (Standard) apprenticeship and attends the college on block release. She has now finished all her studies and only has her end-point assessment left to complete.
After starting her career in a paralegal apprenticeship, Jess decided she wanted to move into something more hands on after helping her grandad with plumbing and electrical jobs on the weekends. She moved from a law firm to NG Bailey and into a role she truly loves and feels passionate about.
Jess has continued to prove this was the right decision and this award recognises her hard work, high grades and commitment over the last 12 months.
Jess commented: "I'm really happy to be awarded this award by Leeds College of Building. They've been really supportive throughout my apprenticeship studies with them.
Undertaking a heating and ventilation apprenticeship continues to be the best career decision I made and I'm looking forward to progressing further. Commitment is a big part of being an apprentice and I always seek to learn more and do the best I can when it comes to both my work and studies.
I'm also really passionate about encouraging women to take roles in engineering, so hopefully this goes someway to showing others what can be achieved through an apprenticeship in the construction industry."
The BIG Awards celebrate the work and achievements of students at the college throughout the 2021/22 academic year and it's a great opportunity to showcase our industry's rising stars.
It is proving to be a successful year for Jess achievements-wise, which has also seen her shortlisted in the Apprentice of the Year category at both the CN Specialists Awards and CN Workforce Awards too.
Well done Jess!