25 Aug 2022
NG Bailey announces positive results for the year ended February 2022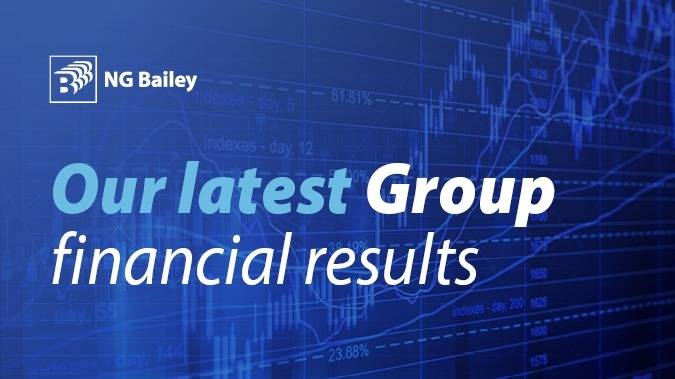 NG Bailey, the UK's largest independent engineering and services business, has reported a return to profitability, supported by a positive balance sheet, investment in talent, balanced strategy and solid market positions.
For the year ended February 25, 2022, it reported EBITDA* of £7m (compared to £3m in 2020/21) with an underlying operating profit of £0.8m (compared with a loss of £2.7m in 2020/21) and pre-tax profit of £3m (up from a loss of £4.4m in 2020/21). Annual turnover was in line with the previous year at £500m (£507m in 2020/21).
NG Bailey has maintained its strong balance sheet with net assets of £147m, including cash and investments of £79m. The Group's order book also remained healthy and consistent at £1.2bn.
Chief executive of NG Bailey, David Hurcomb, said: "NG Bailey has made a strong recovery following the pandemic, evidenced by our return to profitability. This demonstrates the strength of our diversified business plan which is increasingly important given the challenging economic environment driven by inflationary pressures and skilled labour shortages.
"With a high-quality order book, further opportunities for repeat income and the UK government committing to drive economic recovery through substantial investment in infrastructure and decarbonisation, we look forward with confidence to returning to pre-pandemic levels of trading in the medium-term. This is further backed by a growing pipeline of work in recession resilient markets.
"Given the current trading environment, the strength of our balance sheet remains one of our key differentiators as our customers look for stability in their supply chains. With our market leading capability to provide services across the whole built environment lifecycle, we are well positioned to not only face any short-term challenges but also successfully deliver our strategic growth plans."
From an operational perspective, key milestones included:
Continued investment in people and talent. This included setting an ambition to recruit NG Bailey's highest number of apprentices for 15 years, with around 100 apprentices joining the business in 2022. The Group has also launched a new graduate recruitment programme, as part of a refreshed learning and development strategy. Strong leadership at the head of the organisation was also evidenced through the promotion of Tim Simmons as managing director of the Services division and the appointment of John Kelly as managing director of the Engineering division.
Playing a key role in the UK's transition to a low carbon economy demonstrated by good progress on delivering NG Bailey's Net Positive responsibility strategy and the launch of its electric vehicle infrastructure offering.
The pioneering use of Offsite Manufacture, which supports the transformation of construction with a design for manufacture solution, as seen on The Forge project, where a 'kit of parts' approach enabled significant project benefits when compared to traditional construction methods.
Achieving a record low and industry leading Accident Frequency Rate of 0.02 and ensuring the health and safety of NG Bailey's people, customers, supply chain partners and communities remained first and foremost.
Further growth through selective strategic low risk acquisitions, namely Kershaw's service and maintenance division joining the Group's Facilities Services business.
NG Bailey's Services division has recovered quickly following the COVID-19 pandemic with all three business streams; Facilities Services, IT Services and Freedom (which provides facilities and engineering services principally to the DNO market) performing well during the financial year with increased turnover and profitability. Collectively the underlying operating profit, excluding goodwill amortisation, was £7.1m for the Services division in 2021/22. Client retention rates continue to be excellent. Turnover for the division now accounts for almost half of the overall Group.
The expected longer recovery of the construction and engineering sectors, coupled with a small number of challenging contracts, resulted in the Engineering division posting an operating loss of £5.1m in 2021/22. However, the division has embarked on a three-year business plan that will see a return to pre-pandemic levels of profitability based on a strong, visible pipeline of work.
David Hurcomb added: "Whilst the pandemic had a material effect on operations and there are some new market headwinds to navigate, the Group is on track with its plan. We have an excellent reputation, extensive operational skills, strong balance sheet and experienced management team.
"The Board and family would like to thank all our people for their ongoing hard work and dedication and for living by our values of Passion, Integrity, Responsibility and Excellence."
*EBITDA is calculated as statutory profit adjusted to add back interest, tax, depreciation, amortisation, and exceptional items.