28 Jul 2022
Graduate programme - open for applications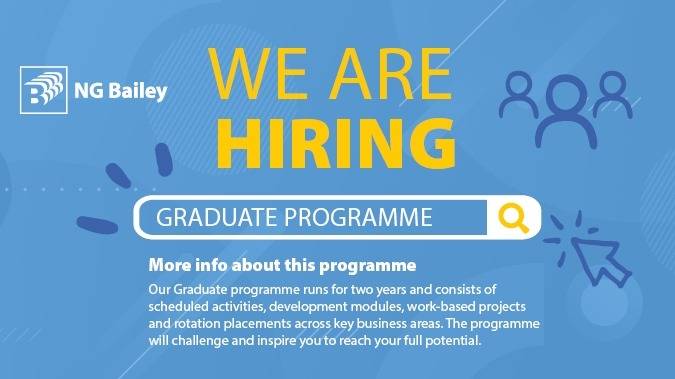 As an NG Bailey Graduate, you'll join a programme that runs for two years and consists of scheduled activities, development modules, work-based projects and rotation placements across key business areas and will challenge and inspire you to reach your full potential.
Working on exciting projects, you will develop wide-ranging skills, knowledge and real-world experiences. This will build your confidence, expertise and strategic acumen in leadership and project management.
You'll join an established graduate network and have access to our wide range of employees who will support you in shaping your career with us.
Whilst on the programme, we'll help you gain relevant professional qualifications such as Association of Project Management and to support your move towards Chartership status / membership of other associated professional bodies.
But it doesn't stop there, after graduation, you'll have opportunities to move into roles and disciplines where you can use your experience on the programme to make an impact in your chosen career.
We will support you still through 'career launch' activities and have you will have access to further funded-sponsored development opportunities aligned to your role and future career with NG Bailey.
The NG Bailey Group Graduate role
The purpose of the role whilst on the programme, and beyond, is to become a competent Chartered Engineer or Project Manager who can be a future operational leader within our organisation.
We are looking for people to join our programme and who can demonstrate the following :
Team player – we do this together
Self awareness – emotionally intelligent, has empathy for others
Effective planning, organising and time management skills
Ability to influence
Highly driven and results focused
Resilient and can cope with change
Tenacious – can solve problems and overcome obstacles
Basic Health & Safety in the workplace
IT literate and effective communication skills – written & verbal
Right to work in UK.
Key information and how to apply for the 2022 intake
All participants must be available to travel to and reside in different locations across the UK to complete three geographical rotations (up to eight months at each location) and attend development modules and workplace learning activities
All participants will complete two projects throughout the programme, one work based and one social responsibility driven
This full time Graduate role has a starting salary of £28k pa (plus travel / accommodation costs for rotation / placements) and commences on 3 October 2022
Core locations include: Leeds, Manchester, Bristol, Birmingham, London, Newcastle.
How to apply:
We are inviting applications from candidates who have or are expected to gain a degree in either, Electrical engineering, Mechanical engineering, Building Services engineering or a related subject
Deadline for applications is 24 August 2022
The recruitment process includes telephone interviews followed by assessment centre attendance in Leeds on 6 September
Successful applicants will start the NG Bailey Graduate programme on 3 October
If you meet the criteria above and able to commit to these key dates, please visit our Graduate application page to apply.