3 Jun 2022
Apprenticeship ticks the boxes for trainee auditor Megan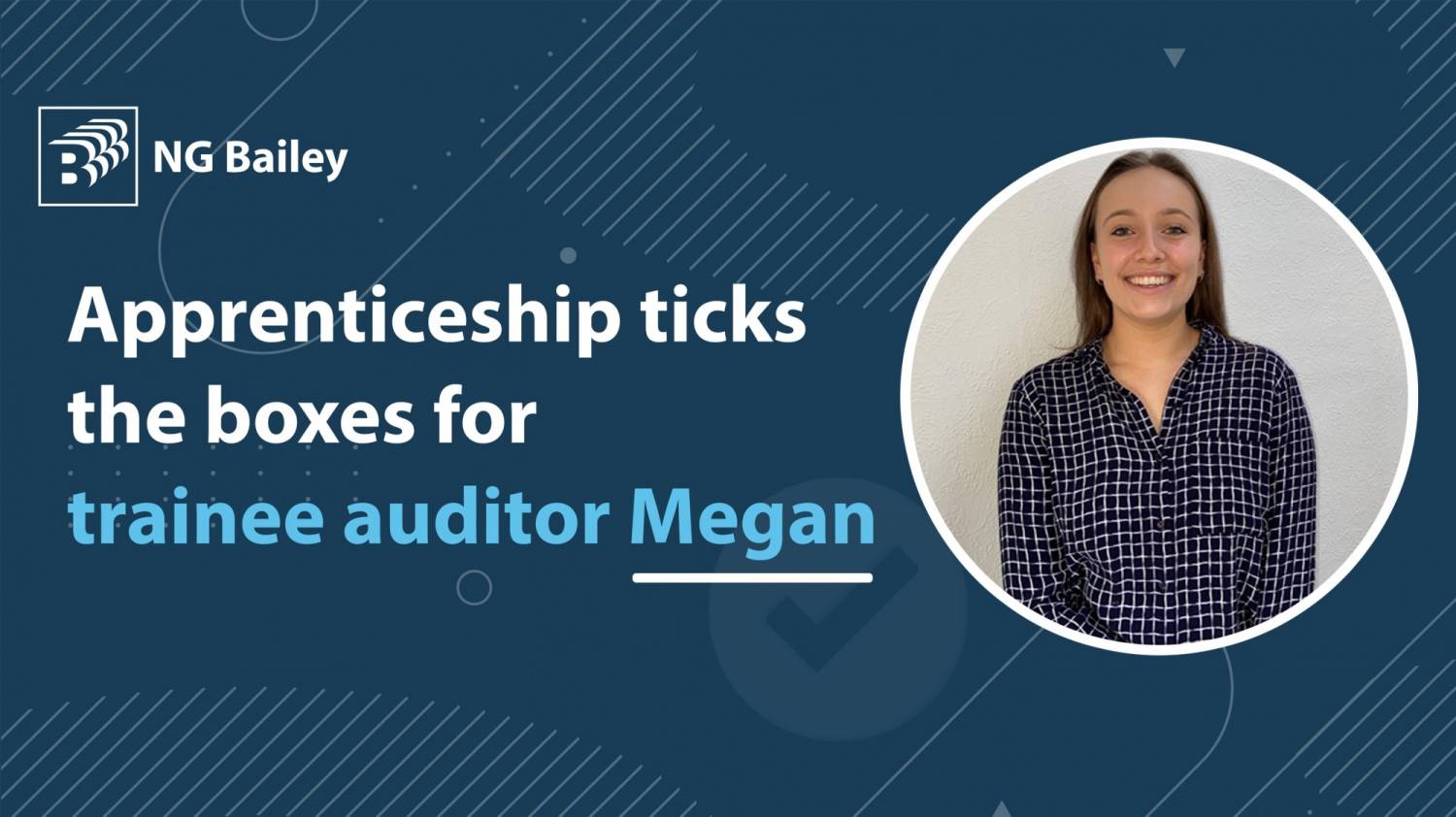 At NG Bailey we offer a wide range of apprenticeships and training opportunities across our Engineering and Services divisions. As well as working on our projects and sites, we also offer the opportunity to become part of our central Group functions too.
We caught up with Megan Gill, who joined our Audit and Assurance team last year as a trainee internal auditor, to find out more about her role, what she has learnt during her time with us and her advice for others thinking of undertaking an apprenticeship.
Megan finished university in the summer of 2020 and went into care work at the height of the pandemic. It was during this time she decided she wanted to start a professional career in the accountancy sector and that's when she came across an apprenticeship with NG Bailey, which offered her the perfect opportunity to do so.
"As a trainee internal auditor, I work within the Audit and Assurance team. I'm currently undertaking an Accountancy/Audit Professional Level 7 apprenticeship and alongside this, I am also studying towards my Chartered Institute of Management Accountants (CIMA) qualification.
"Collectively we work as an independent, objective assurance and consulting team, brought together to add value and improve the operations of the business. We help the business to accomplish its objectives by evaluating and recommending actions to improve the effectiveness of risk management, control and governance processes through our audits."
In her role, tasks include creating terms of reference, inputting data into a risk and controls matrix, which considers the controls in place, risks associated and testing, and creating reports with findings and recommendations. Megan has also helped the team to implement several new measures to better understand our business-wide risks and their implications to a greater extent.
Megan believes there are certain skills that help her to carry out her role successfully: "I feel strong communication skills are key as I converse with different stakeholders across the business, through a variety of methods. Problem solving, analytical and decision-making skills also help me with my day-to-day tasks, and I believe they are essential for any audit and assurance related role."
She also has some advice for people who are thinking about undertaking an apprenticeship: "If I'm working from home or outside the office environment, I like to turn my camera on for any Teams calls to ensure I 'meet' people, and so it still feels like we're having a face-to-face conversation. Also, for exams, make sure you plan ahead and organise your time as they come around quickly!"
Megan has been a real asset to the Audit and Assurance team, and it's been great to see her develop her skills and relationships with people across the business during her time with us. She told us what she liked most about her apprenticeship and working at NG Bailey: "I really enjoy working in a business environment, adding value to the business, and meeting and working alongside lots of different people.
"I have also enjoyed working towards my qualification and furthering my education after university. NG Bailey have provided the perfect opportunity for me to do this, all whilst working with a great team."