15 Mar 2022
NG Bailey engineers help to bring community bus to life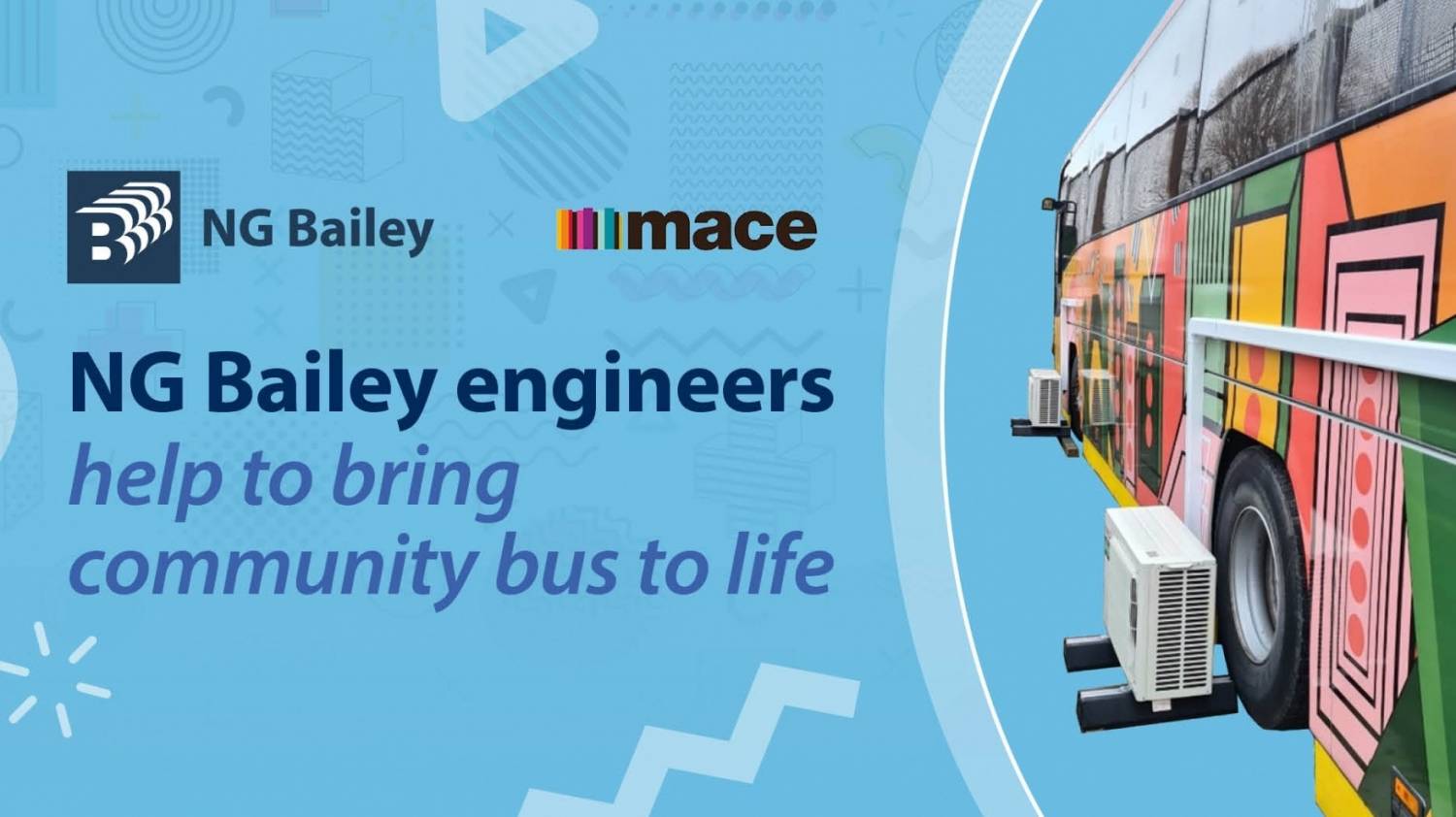 A team of NG Bailey's London-based engineers recently worked together with global consultancy and construction firm, Mace, to install essential air conditioning facilities to a bus that offers community space for the young people of Old Oak Common Primary School in Acton, West London.
Members of Mace's International Technology Business Unit got in contact with the school, to see if there were any potential community investment and volunteering projects they could assist with. They brought their attention to Bubble and Squeak, a social enterprise set up within the school by a group of entrepreneurial children.
The school expressed a need to have air-conditioning installed in The Bubble & Squeak Studios, a donated bus that had been fitted out for classroom and community space, so it could be used to its full potential.
As a member of their supply chain, Mace reached out to see if we could help. We were more than happy to be onboard and pledged to donate and install two air-conditioning and heating units on the bus. The units and installation represented a contribution of over £15,000, which the school would otherwise have had to fundraise for.
The introduction of the air-conditioning and heating facilities ensures that the young people will now be able to make use of the bus all year round and in all weather conditions. The high acoustic performance of the fitted units also won't interfere with the fun activities the bus hosts, such as recording podcasts.
Matthew Towner, Regional Director, Engineering London at NG Bailey, commented: "We were proud to be invited by Mace to be a part of this great project. It's always an honour to use the knowledge and skills of our people for good. We hope the children of Old Oak Common Primary School can now make the most out of the fantastic learning facility that is Bubble & Squeak Studios".
Lydia Gandaa, Director at Bubblesqueakeat CIC, said: "We are so lucky as a community to now have this unique space up and running. Having the air conditioning unit installed means we can use Bubble & Squeak Studios as it is now a fully functioning space. We and most importantly the children, will be able to access the space to support their learning in many extra-curricular areas. Thank you to the Mace team and NG Bailey teams for all the effort put into getting the space up and running!"
Sean Christie, Associate Director, Mace, stated "I am extremely proud of the work we have been doing in the borough of Hammersmith and Fulham. I would like to thank NG Bailey and their suppliers, whose input has been invaluable helping Mace to deliver on our priorities to deliver distinctive value and build thriving communities".