10 Mar 2022
Lowest ever accident frequency rate achieved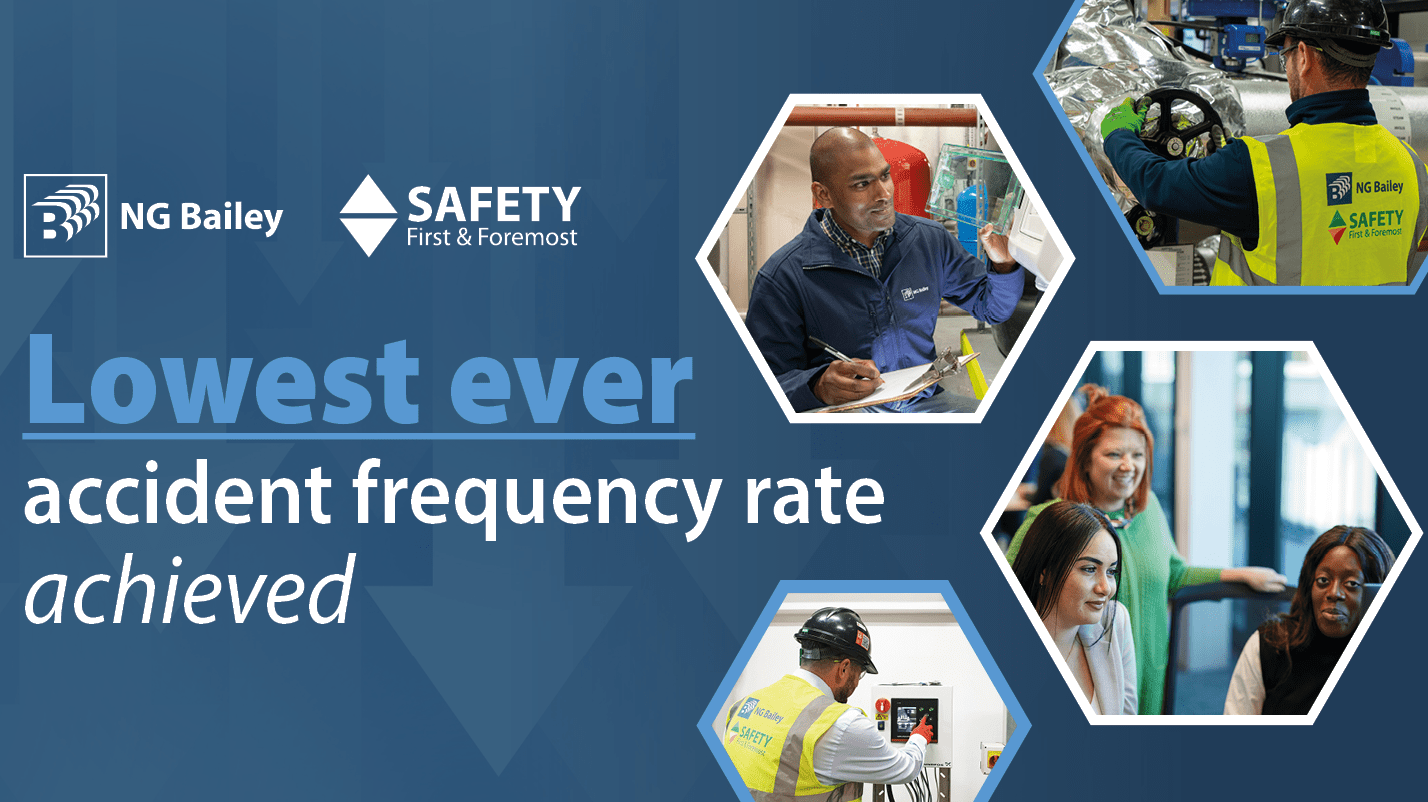 Safety has always been first and foremost at NG Bailey, so we're thrilled to have recorded our lowest ever accident frequency rate for the Group.
An AFR of 0.02 was achieved over the last financial year (February 2021 – February 2022), which considering the size and diverse nature of our business, is a great result. This can also be broken down further, with the three RIDDOR incidents recorded during this period being sustained by subcontractors. And whilst we don't want anyone who works on our behalf to get hurt, this does mean that the AFR for our direct workforce is zero.
This wouldn't have been possible without the vigilance, awareness and proactivity of our people, who together have all contributed to this fantastic achievement. We'd like to thank everybody, whether they work on our sites or in our offices, for their continued hard work and commitment to our Safety First & Foremost principle.
Despite reaching this milestone, as a business we will never become complacent, and we have a number of new initiatives being introduced across the Group over the coming year to ensure we continue to prioritise the safety of our people. This includes the start of our 'Safety in Mind' culture development programme and the roll out of 'MySafety' our new safety, health and environmental performance reporting system, which will allow us to see what is happening across our business in real time and will ultimately enable us to predict future risk and implement control measures accordingly.
Matt Dixon, Group Head of SHE, said: "The unprecedented nature of the pandemic over the past two years and the associated concern and worry felt, not only as a business, but personally by all our people, makes this performance even more exceptional.
"As a business we have remained focused on ensuring we live and breathe our Safety First & Foremost principle, but the hard work starts now. Only by everyone continuing to be empowered to challenge positively and work proactively as one, will we be able to not only maintain this performance but realise our aspiration of zero harm in the future."