17 Nov 2021
It's level seven success for Finance Analyst apprentice Jess Shephard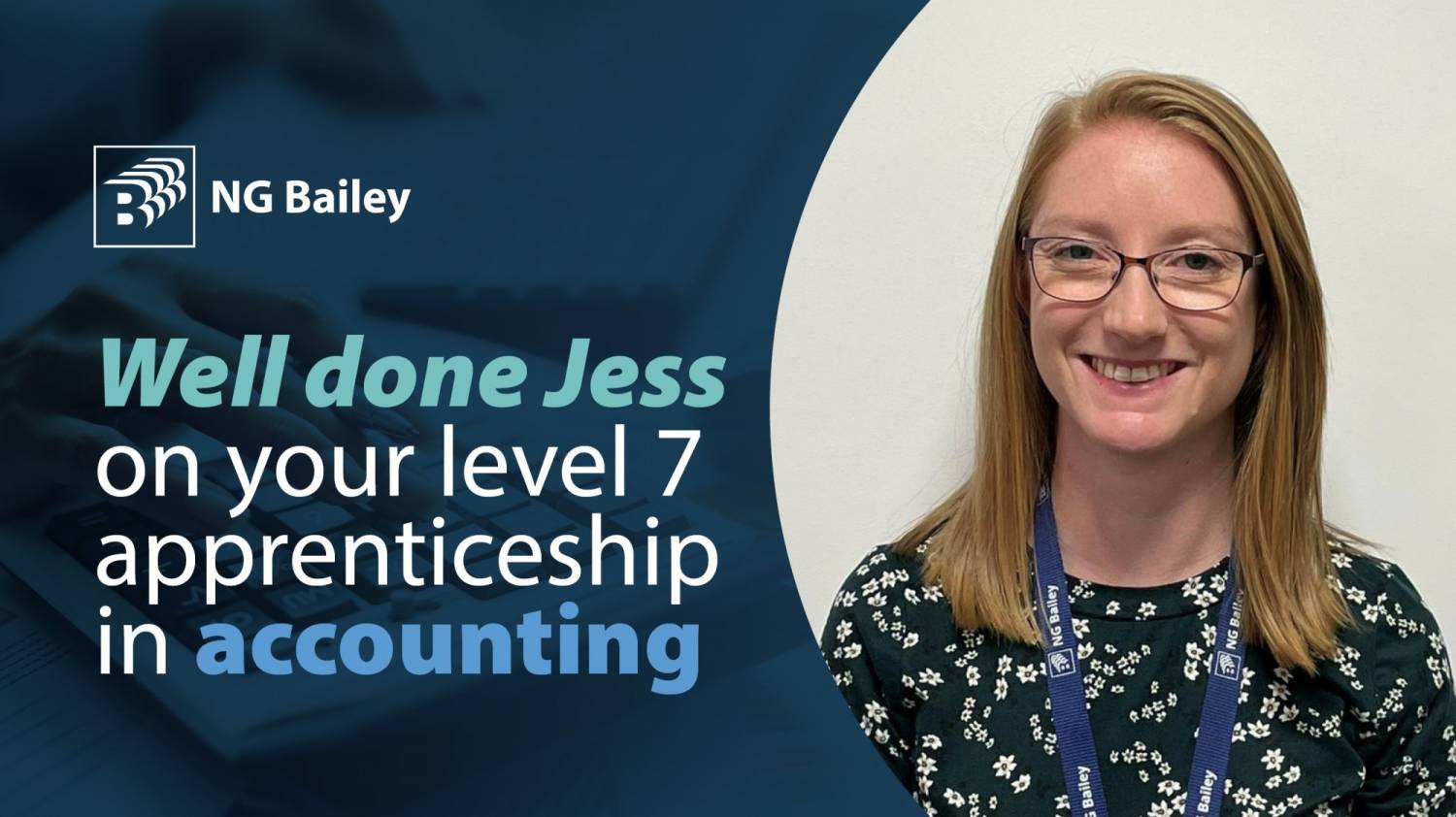 Congratulations are in order for Finance Analyst, Jess Shephard, who is the first recruited NG Bailey apprentice to complete a Level 7 Accountancy/Taxation professional apprenticeship.
Jess, who works within our Finance team in Leeds has studied hard over the last three years to gain this prestigious qualification, which is the equivalent to a master's degree.
Before embarking on apprenticeship with us in 2018, Jess gained a degree in mathematics and her first role post-study was as a customer assistant for Boots.
It was a challenge to find a financial role during this time that didn't require previous financial experience, so she turned her focus to finding an apprenticeship. Securing a place on our apprenticeship programme gave her the opportunity to pursue a career in finance whilst simultaneously building her financial knowledge and experience.
Jess has really enjoyed her apprenticeship with us and would recommend this method of learning as a pathway to a career for others. She comments: "I've thoroughly enjoyed working with my team who have helped and supported me throughout my apprenticeship.
"I have been given lots of opportunities to develop in my role which have included getting out into the business to meet and work with different regional teams and taking on more responsibility. This has all helped me to push myself and grow into the person I am today.
"I would definitely recommend doing an apprenticeship to anyone – it gave me the opportunity I needed to get into the career I wanted and to learn and progress whilst working. From starting with very little financial knowledge, I'm now a Chartered Management Accountant."
Claire Kett, Apprenticeship Development Compliance Partner, said: "I'm really proud of Jess and this result really is well-deserved after all the hard work and long hours she has put in."
Jess would like to continue to develop and progress within the business and is looking forward to seeing what the future holds for her. She will soon be entering into a permanent role with us as a senior finance analyst.
Well done Jess!