9 Nov 2021
NG Bailey engineers are back to support continued expansion at Clydebank's NHS Golden Jubilee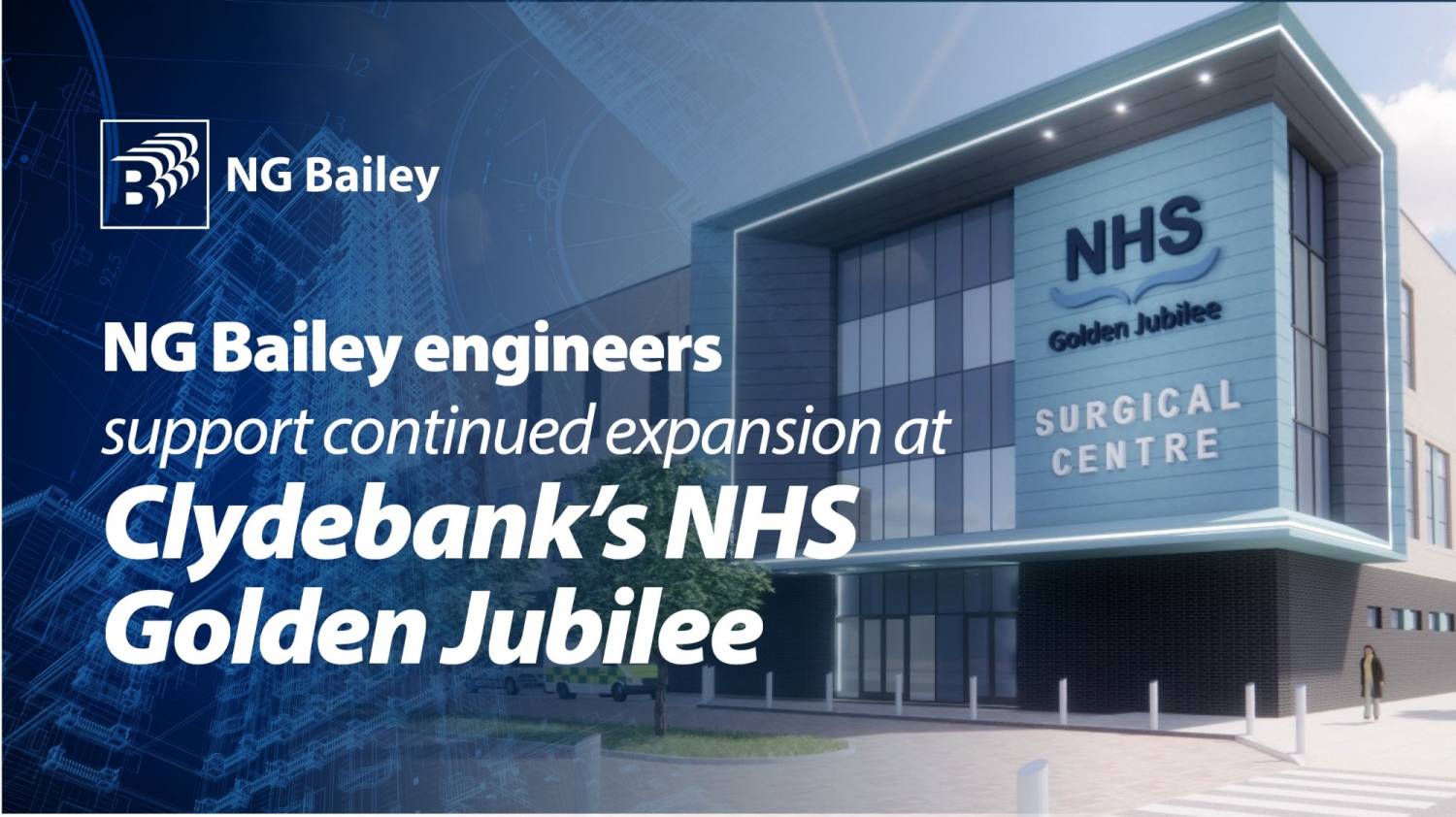 Our Engineering division has secured a second contract to support the ongoing expansion of the NHS Golden Jubilee hospital in Clydebank, Scotland.
The £15m contract is the second time we have been appointed by the principal contractor Kier Regional Building Services – Scotland, to support the hospital's expansion plan.

During 2020, we delivered the mechanical, electrical and plumbing installations (MEP) for phase one of the expansion, a new six-theatre eye centre which began receiving patients in November 2020.
Work on the second phase of the National Treatment Centre is already underway and is expected to be completed by June 2023. This will enable the NHS Golden Jubilee to carry out thousands of additional hip and knee replacements and other orthopaedic procedures annually, as well as significantly expanding diagnostic testing and general surgery. The project is due to be completed in summer 2023.
A team of our engineers, including apprentices, will be on site to support the delivery of the new three-storey development which will include theatre suites, orthopaedic amenities, outpatient and pre-operative spaces, a surgical admissions and recovery unit, a central sterilising and processing department and a new endoscopy unit.
Modern methods of construction are being widely used across the project and many of the service installations, including heavy duty service modules, plant room skids and plant room frames are being manufactured at our specialist Offsite Manufacture facility.
The building will also feature a range of energy saving measures including high efficiency heating, cooling and ventilation systems, presence-controlled lighting systems, and a heat recovery system serving the operating theatres.
Patrick Morrison, Healthcare Sector Director at NG Bailey said: "We are delighted to be working with Kier again to deliver this important project which brings further enhancements to patient care in the region.
"We have extensive experience delivering healthcare projects across the UK, working in live hospital sites where maintaining on-going patient services is vital. We've designed our solutions to embrace modern methods of construction as this accelerates the delivery of our programme, reduces the carbon impact of the works and minimises disruption by reducing the number of deliveries required."
Chris Wilson, Senior Project Manager at Kier commented: "Following the successful completion of the Phase 1 expansion project, it was an easy choice for Kier to build on the collaborative partnership formed with NG Bailey during these works and continue to utilise their expertise for the Phase 2 works."