20 Oct 2021
Double award honour at CN Specialists Awards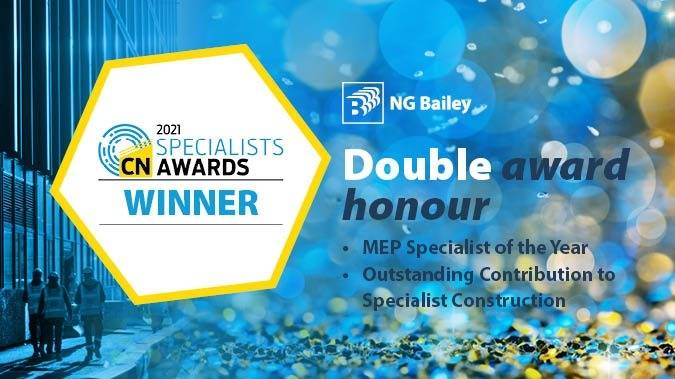 It was a night of celebration at this year's CN Specialists Awards, where we won an amazing two awards!
In our centenary year it really is an honour to receive the Outstanding Contribution to Specialist Construction Award, which recognises our contribution to the industry and the great things we've achieved since our foundation back in 1921.
The judges applauded our "Impressive track record over 100 years", they said: "This company adapted its strategy to meet the changing demands of the industry and is well placed to service the infrastructure requirements of the green economy."
We also picked up the MEP Specialist of the Year Award which acknowledges our projects, innovation and use of technology, our health, safety and sustainability credentials, as well as our vision, strategy and growth.
The judges commented: "At a time when industry was being tested, NG Bailey showed consistent strong commitment to its people, culture, innovation, business improvement, sustainability and clients."
To win these awards is a fantastic achievement and recognises not only our outstanding projects but our great people, who continue to work hard, innovate and consistently deliver, to ensure we continue to be the UK's leading independent engineering and services business.
Our work on the prestigious Manchester Engineering Campus Development (MECD) project was also recognised in the Project of the Year by a Specialist Contractor (subcontract over £5m) category, where we received Highly Commended.
One of the largest single construction projects ever undertaken by a higher education institute in the UK, MECD spans eight floors and boasts a floorspace of more than 818,000 sq ft, the equivalent of 11 football pitches. The majority of works were delivered using offsite techniques and our designers, Building Information Modelling (BIM) co-ordinators and engineers worked collaboratively with principal contractor Balfour Beatty to develop a range of innovative solutions.
The CN Specialists Awards, which took place at The Brewery in London last night, are the only national awards recognising the outstanding achievements of specialist contractors and for 17 years, have been highlighting the inspirational businesses and work found across the industry.
Today we're immensely proud of everybody at NG Bailey!
You can read more about our entry and the night's other the award winners here.