4 Oct 2021
Hats off to our 2020 and 2021 graduate apprentices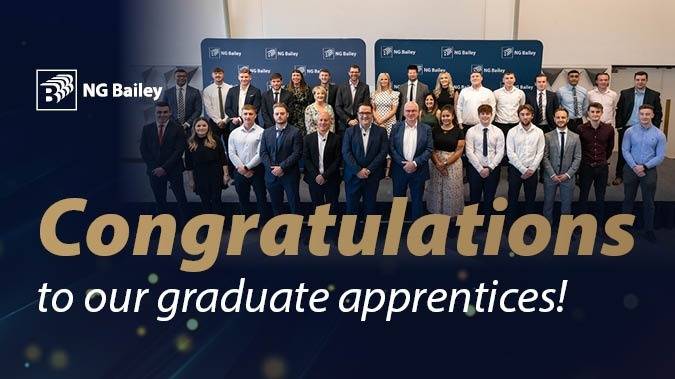 We'd like to congratulate our 2020 and 2021 graduate apprentices who have successfully completed their apprenticeship programme with us.
Our 46 graduates will now go on to the next stage of their careers, putting the knowledge, skills and experience they've developed over the last few years into practice in a wide variety of roles, including project engineers, electricians, mechanical engineers, quantity surveyors, design engineers and estimators.
Our apprentice graduation ceremony took place at The Slate, at the University of Warwick in Coventry. As well as receiving their certificates and listening to our key speakers, the event also enabled them to reflect on their apprenticeships with their fellow graduates and their families.
During their time with us, they have not only grown in their chosen roles but also as individuals, improving in confidence and perfecting the skills that will continue to grow as they continue their careers.
Frank Clayton, Group Head of Learning comments: "Apprentice graduation is always something we look forward to celebrating, and more so for this group of graduates who had some extra challenges to overcome as a result of the COVID pandemic. I'm really proud of our graduates, who have remained dedicated and determined, and continued to conduct themselves with true professionalism during this time in order to successfully complete their apprenticeships on time.
"We're committed to our apprentices and the development of our people, continuing to recruit during COVID, despite the challenges, with almost 60 new apprentices joining us this year."
Congratulations once again to all our graduates, we wish you all the very best of luck for your future careers.