25 Aug 2021
Our latest issue of infocus is out now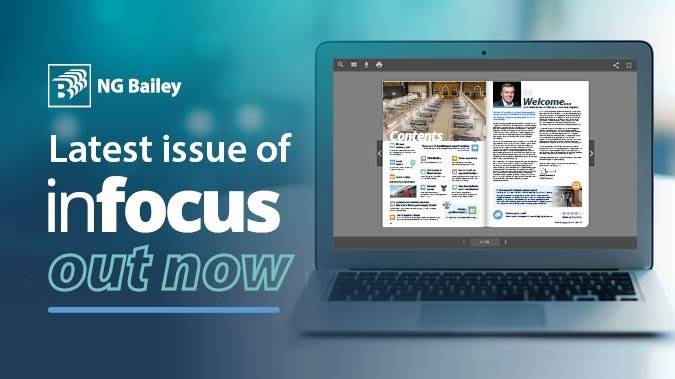 ​Want to find out more about our latest projects and achievements, and gain an insight into what we do? You can find all of this and more in our interactive digital magazine, infocus, which shares news, views, and success stories from across our business.
At NG Bailey we collectively deliver outstanding work, creating exceptional environments for a wide variety of customers across a range of diverse and interesting sectors, and we hope to offer a snapshot of this excellence in our bi-annual digital magazine.

In our latest edition, we celebrate our centenary year and look back over our 100-year history to discover more about the milestones and achievements that helped us to grow from our humble beginnings as a small domestic electrical contractor into the industry-leading business we are today.
We hear from two well-regarded colleagues, Patrick Morrison and Richard Roberts, who share their views on key issues that are affecting our industry and their suggestions for change. We find out more about our recent contract wins and catch-up with the outstanding projects that are being undertaken across the country by our Engineering and Services teams, which includes the completion of our work on the prestigious Manchester Engineering Campus Development (MECD).
We also look at the awards we've been honoured to receive so far this year, all of which wouldn't have been possible without the hard work, dedication and passion of our people.
We hope you enjoy!