24 Jun 2021
Double shortlist success in Offsite Awards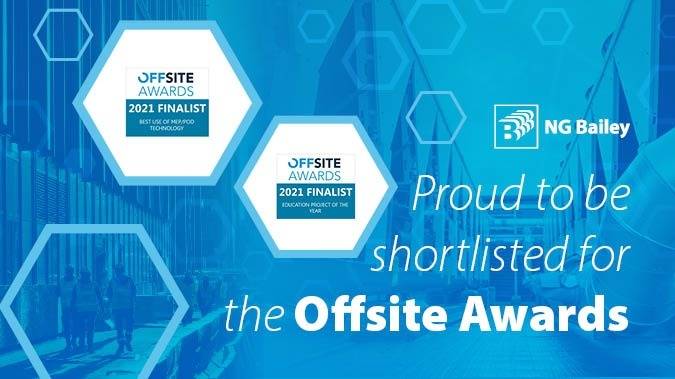 We're excited to announce that two of our projects have been shortlisted at this year's Offsite Awards - UK Battery Industrialisation Centre in the Best use of MEP & Pod Technology category and Manchester Engineering Campus Development (MECD) in the Education Project of the Year category.
The UK Battery Industrialisation Centre (UKBIC) is a pioneering concept in the race to develop battery technology for the transition to a greener future and the ground-breaking 200,000 sq ft facility is the first one in the UK. Our installation was designed with offsite in mind and delivered using innovative offsite techniques which were the first of their kind, including 140 prefabricated modules that were completed in just under seven months.
MECD is one of the largest single construction projects ever undertaken by a higher education institute in the UK and we developed a range of innovative build solutions, using offsite techniques to deliver most of the installed equipment on a scale not seen before at an educational facility. More than 850 tonnes of equipment including 64km of pipework – almost enough to reach from our offsite facility in Bradford to the site in Manchester – was delivered in total. By using our Offsite Manufacture expertise, we achieved significant cost, sustainability and health and safety outcomes, including more than 74,500 hours of work being removed from site.
We hope to build on our success at last year's awards where we were recognised in the Best use of MEP & Pod Technology and Offsite Pioneer of the Year categories for our work on the £54m state of the art Interdisciplinary Biomedical Research Building (IBRB) at the University of Warwick, that was built using at least 50% offsite manufacturing for both construction and mechanical and electrical services installation.
NG Bailey has been an advocate of offsite manufacturing for more than 20 years and during this time, we have developed our capabilities, led from our pioneering base in West Yorkshire, to become a UK leader in the field.
The Offsite Awards recognise excellence across every aspect of the industry from hybrid and modular technology to engineering and installation, ensuring that all aspects of the offsite building process is celebrated - recognising the design and technology that makes these inspiring projects possible.