24 Mar 2021
NG Bailey urges suppliers to make their voices heard in industry product information consultation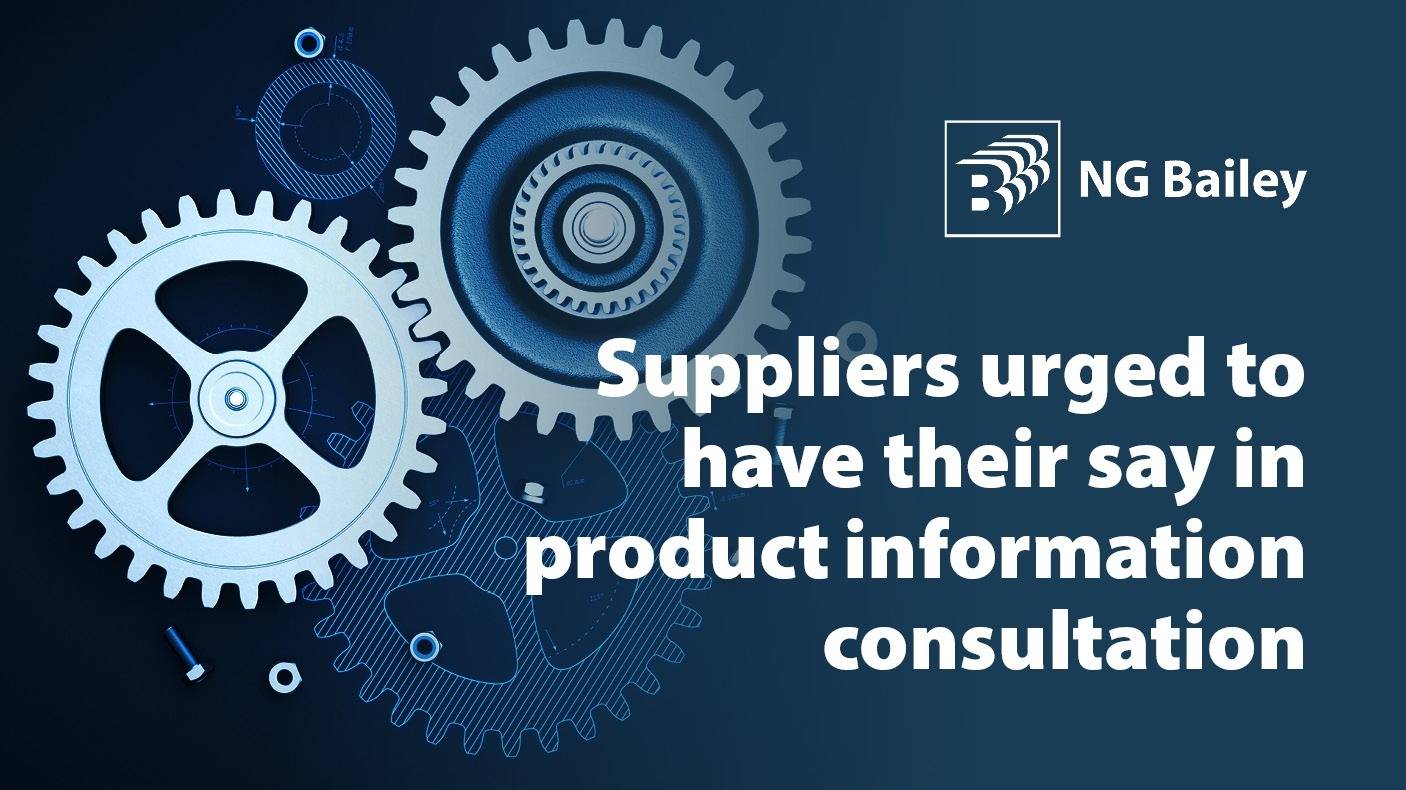 NG Bailey is urging suppliers and distributors across the construction industry to have their say in the Construction Products Association (CPA) industry-wide consultation on the code for construction product information.
Our procurement data manager, Phil Thompson, says the issue of confused product information labelling is a problem right across the construction industry and something the business has been focussed on challenging for a number of years, regularly engaging with suppliers and industry partners with an aim to develop an efficient solution.
Phil explained: "We have around 800,000 product lines in our system, so you can imagine that without a single industry-wide approach to labelling, it can lead to a lot of inconsistent information, which in turn takes us a lot of time to organise and leads to an inefficient transaction process.
"The Hackitt Report – Building a Safer Future - identified this as a key issue for our industry and in response the CPA has developed a code of conduct which aims to establish standards and consistency in product information.
"This is a welcome step forward and I've been regularly liaising with our partners urging them to get involved – but with only two-weeks of the consultation remaining, I'm surprised at how many companies are still not even aware of the report and code of conduct.
"Collaboration is absolutely vital with this and I'd urge all interested parties to read the report and provide their feedback."
Phil likens the introduction of standardised product information to the introduction of food standards in the UK, adding: "The use of barcodes in food retail means that all the information about a product is available to all the different retailers who sell it.
"As you can imagine in construction there are numerous sources of data, different pieces of information are being shared with different users, data might be missing and all too often we rely on information being manually inputted, which increases the risk of errors.
"We strongly support the introduction of a system which enables products to be uniquely identified – as we see in food retail – and for the information associated with that product to pass the acid test stipulated by the CPA of being clear, accurate, up-to-date, accessible and unambiguous.
"This will enable us to clearly identify, select and procure the products we require and then pass the information along the 'Golden Thread' for use by all parties, for example in enterprise resource planning and in informing building maintenance plans."
As well as taking part in several presentations, we have contacted our suppliers to outline the aims of the consultation and encourage them to take part.
We are already moving towards a process that supports the 'Golden Thread' initiative by improving the transparency of transactional data for all commodity items by increasing the use of Luckins TSI codes, and encouraging manufacturers and distributors to list their commodity on Luckins and quote the TSI codes on websites and transactional correspondence.
Phil added: "The introduction of a code will be a monumental step forward for the industry and it is vital that suppliers don't get left behind."
Further information on the consultation, which is open until March 31, and information on how to take part can be found at www.buildingsafely.co.uk.