10 Feb 2021
Nightingale reflections from apprentices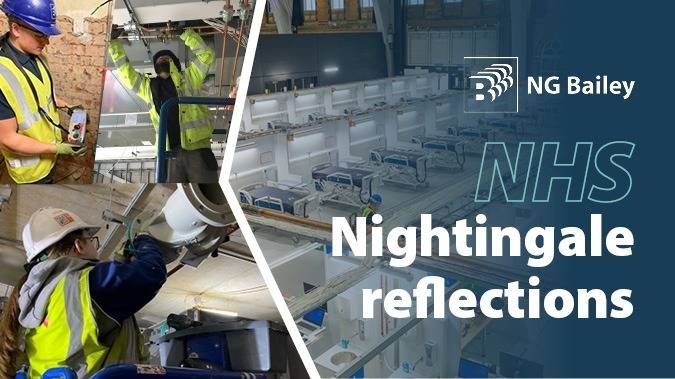 We've been hearing from some of our apprentices who had the opportunity to contribute to the creation of NHS Nightingale hospitals.
Here we catch up with Jess, Wesley and Sam who worked on the Manchester and Harrogate projects.
Jess Farrimond was a first-year heating and ventilation apprentice when she supported the Manchester project. Even though her trade wasn't needed, Jess worked alongside electricians helping them out and expanding her knowledge. She said: "Initially I was a little nervous but the site was set up so we could all keep our distance and the atmosphere was really cheery because we were all focused on getting the job done."
In Harrogate Wesley Clarke, now a third-year apprentice pipe fitter supported logistics and fitted water heaters. He says: "Everything was moving so fast so keeping everything moving was vital. I'm proud of myself and everyone who helped - my feet were sore by the end of it, but it was worth it!"
Sam Gorman, then a 3rd year electrical apprentice, also supported the Harrogate project installing equipment including compressors, distribution boards and power supplies to the vital oxygen supplies. He says it is an experience he will never forget: "I will never forget arriving the first day, there was a lot of press there and the Army were also there to support, it felt quite surreal. But very quickly everyone got on with their jobs and the pace was incredible.
"Everyone was giving it 100% and we were all aware that our work could help save lives. I am incredibly proud to have been involved and I will always be grateful to NG Bailey for giving me the opportunity to help the country during the pandemic – it was a truly incredible experience."