10 Feb 2021
Apprentices step up for frontline service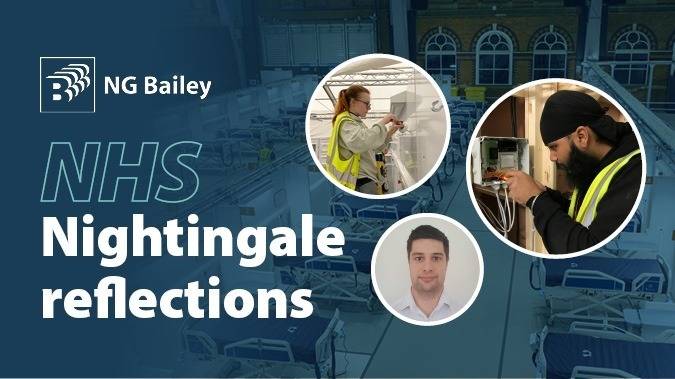 As we celebrate National Apprenticeship Week, we've caught up with some of our apprentices who had the opportunity to contribute to the creation of NHS Nightingale hospitals across the UK.
We supported the national initiative to create emergency field hospitals across the country, today we'll be hearing from some of those who worked on projects in Manchester, Harrogate and Cardiff.
In Cardiff, the UK's second largest field hospital, Beth King and Prabhmeet Singh were both first-year electrical apprentices at the time and worked on the project for several weeks; they both agree it was a valuable learning experience.
Prabhmeet explained: "Because of social distancing, we had to work independently – it taught me such a lot and my confidence really grew." Bethany agrees saying: "It was such a fluid project and decisions were being made rapidly – so we were responding at speed. The energy was incredible, it is the best project I've worked on so far."
Third year Building Services Engineer apprentice Ethan Addis also supported the Cardiff project and found himself supporting logistics. He said: "There was so much to coordinate, and a lot of partners were involved so collaboration was vital. I just threw myself in which meant I learned an incredible amount and my confidence grew a lot."