4 Nov 2020
Defect free handover is celebrated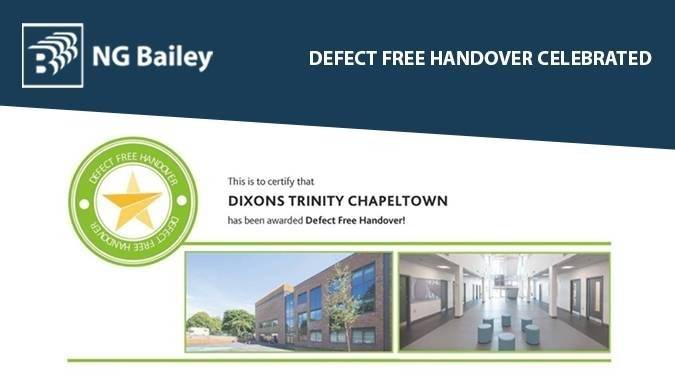 Work by our engineering division at the new Dixon Trinity Chapeltown academy has been recognised for its outstanding quality by principal contractor Willmott Dixon.
Our Engineering division completed the mechanical and electrical (M&E) works at the new all-through primary and secondary school in Leeds in the Spring. Despite the outbreak of COVID-19 and the nationwide lockdown, they were able to safely complete works three weeks ahead of schedule.
Now the team has been recognised for the quality of its installations which resulted in a defect-free handover upon completion of the work. Senior Project Engineer Nathan Willmott was recognised for his commitment and going above and beyond their duties to deliver for the client.
Presenting the certificate, Willmott Dixon Construction Manager Lianne Lawson said: "The dedication and commitment of those involved have meant we have been able to deliver an exceptional product and have pupils loving their new school."
Delivering excellent customer service is an important part of the NG Bailey offering and our North East, Yorkshire and Scotland team recently achieved a Net Promoter Score (NPS) of 100 in our latest review. With a NPS score of 40 being the 'global benchmark' and 70 considered 'world class', we are really proud of these achievements. At Dixon Trinity the team provided mechanical and electrical (M&E) works on the 40,000 square metre site, with works including drainage, heating and ventilation systems, as well as building management systems, electrical distribution and the installation of photovoltaic panels.
The school is split across two sites, which are connected by a bespoke 26m-long steel footbridge. The bridge, which runs across a busy road, joins the main school building to the North with the South site, which includes car parking, a pupil drop-off zone and sports pitches, enabling students to be dropped off and cross the road safely and minimising traffic impact to the surrounding community.