16 Oct 2020
NG Bailey's support for UN Sustainable Development Goals recognised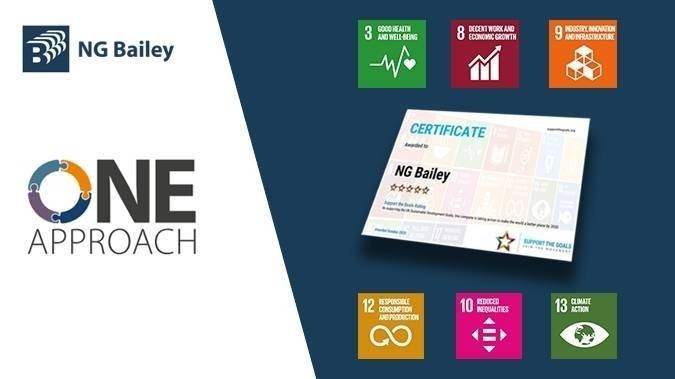 We're proud to be awarded a five star rating in recognition of our support for the United Nations' Sustainable Development Goals.
The Sustainable Development Goals (SDGs), were launched by the United Nations in 2015 and are a 'blueprint' to achieving a better and more sustainable future.

NG Bailey adopted the SDGs in 2018 as part of our One Approach to Business. Since then we have actively supported several of these including those which support industry and infrastructure through innovation; improve diversity and well-being in our business; reduce our carbon footprint and drive responsible consumption. We have been awarded the top five star rating in recognition of our plans, commitments, actions and progress towards the global goals. We are also encouraging our suppliers to do the same. Our Services procurement team has recently engaged with our supply chain partners to encourage them to take their own actions.

By being part of 'Support the Goals', NG Bailey joins other industry leaders, innovators and everyday businesses who are using the platform to publicly state their support for the Sustainable Development Goals.