25 Sep 2020
NG Bailey engineers going back to school to support Variety's Big Build Project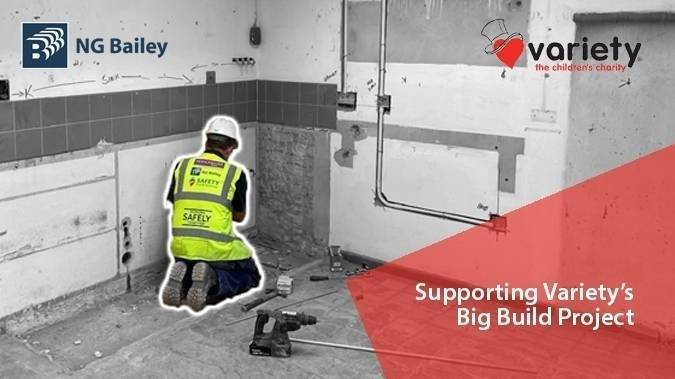 NG Bailey engineers are working together with BAM and supply chain partners to bring an old disused canteen at Green Meadows School in Guiseley, Leeds, back to life.
The work forms part of the Big Build Project, an initiative run by children's charity Variety, which exists to improve the lives of disabled children and young people, and children living in poverty across the UK.
Work will be carried out throughout the next two months and will see our mechanical and electrical engineers installing power, lighting, fire alarm, domestic water, drainage, heating and air-conditioning services in conjunction with key suppliers including Fel Group, JS Miller Contracts, Rexel UK, Whitecroft Lighting and Wolseley, who are all donating materials.
Green Meadows provides education over two sites for pupils aged between three and 19. The former canteen will become a hub for teaching life skills to pupils with special educational needs and will consist of four kitchen work stations, each incorporating a variety of cooking appliances and equipment.
Paul Beeton, NG Bailey Operations Manager said "At NG Bailey we recognise that we play an important role in the communities we work in and we pride ourselves on being able to give back, so we are really proud to be involved with Variety's Big Build initiative.
"Working together with other like-minded partners to deliver facilities that will benefit local children and young people, and provide vital learning opportunities, really does make this a worthwhile project."
Charlotte Farrington, Variety Regional Development Manager, said: 'Transforming this disused kitchen into a state of the art facility will be invaluable for the pupils at Green Meadows. It will enable them to learn key life skills which will help them to live as independently as possible.
"We are so incredibly grateful for the support of NG Bailey and everyone else who has so generously stuck their hand up to be a part of this legacy project. On behalf of Variety and the pupils at Green Meadows; a massive thank you."