4 Sep 2020
Worldwide Exam success for Apprentice Finance Analyst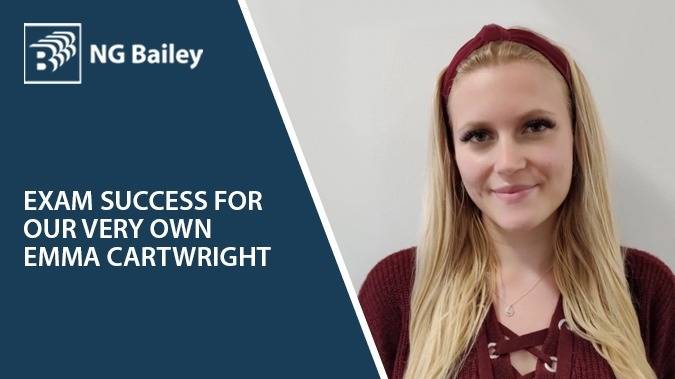 We're proud to celebrate the success of trainee finance analyst, Emma Cartwright who has ranked joint 6th in the world for her CIMA Operational Case Study exam.
Emma is one of our apprentices and as part of her training is undertaking a business accounting and professional qualification with training provider Babington; this exam formed part of her level 7 accountancy professional (CIMA) course.
This is a fantastic achievement that really demonstrates the hard work and effort that Emma has put into her studies.
Emma was thrilled with her result saying: "When I saw my score on results day, I was surprised but very pleased and satisfied that all my hard work paid off, and I was even more surprised to find out I placed joint sixth in the world!
"I feel I achieved this through a combination of hard work, as I put a lot of time and effort into preparing for this exam, but also through the outstanding tutoring. My colleagues at NG Bailey have also been extremely supportive which has helped me with my studies too."
Emma's tutors at Babington were also delighted with the news:
Richard Smith said: "Emma has been dedicated throughout her studies with us, she completes all work that is given to her and attends and participates actively in every session. She is also a lovely person to top it off. I am really pleased and very proud of her."
Julie Hartley said: "I had the pleasure of teaching Emma, she is always friendly, personable and polite. It is a pleasure to teach her because she has always put in the work before the boot camps and she always knows her stuff. Sometimes in the classrooms, she would help other students with their answers. I imagine she will have a wide choice of roles once she is qualified."
Congratulations Emma, from all your NG Bailey colleagues.