24 Jun 2020
Proud to Support our Reservists
We are celebrating Reserves Day and shining the spotlight of two of our colleagues who combine their civilian career with military service.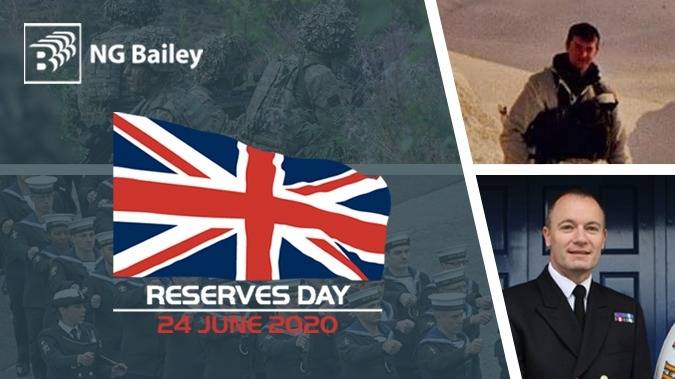 Reserve Forces account for approximately a sixth of armed forces personnel and are integral to protecting the nation's security at home and overseas, particularly providing capability in specialist areas such as medical and cyber. Keith Jones is one of our Facilities Infrastructure Services Account Directors in our Services Division – hear more about his experience
We employ more than 90 colleagues who are veterans, reservists, cadet forces volunteers or partners and spouses of serving men and women. We have established strong partnerships with military groups and charities through which we offer work placements and the opportunity to join employability workshops run by our resourcing team to help those transitioning from military service into civilian work. We also continue to advertise our career opportunities through the Career Transition Partnership which is designed specifically for employers seeking to recruit ex-military personnel.
Below we hear from Keith Jones, one of our Facilities Infrastructure Services Account Directors in our Services division.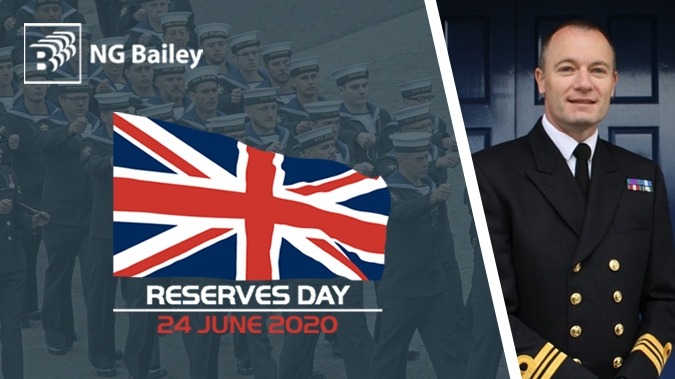 What is your military background?
I joined the Navy straight from school and completed an engineering apprenticeship. I left in 1994 as a senior NCO and then I joined the Reserve Forces in 1996, as I wanted to regain some of the camaraderie and lifestyle of being in the Forces. My current role is the Executive Officer of the HMS Forward unit in Birmingham. My specialisation until recently was a Logistics Officer and I am contracted to up to 24 days per year, which includes 10 to 12 days in operational capability training.
What training did you receive in the forces that transfers to your current job?
I have completed a wide variety of courses, many NATO-led, covering logistics, report writing, specialised planning and leadership. Many of the leadership courses are ILM accredited to level 7. The skills developed during my service with both the regular and reserve forces have proved valuable and easily transferable to my role.
Would you recommend being a Reservist?
Absolutely, I would recommend it to anybody. I regularly get asked why I do it and I think if you join the Reserve Forces, it's a small commitment, but you can gain tremendous benefit from it. You will be pushed and challenged to a certain point, but it's up to you as an individual how much you wish to get out of it. I've never looked back, I've been to some fantastic places and mobilised operations on several occasions.
How has NG Bailey helped you?
I have previously worked for companies heavily involved in the Armed Forces Covenant and it's great to see that NG Bailey is increasing our involvement.
Keith O'Hara is a supervisor in our Facilities Infrastructure Services team, part of our Services division; Keith served in the army and remains a reservist.
What is your military background?
I joined the army in 1991, just before I turned 16, and served until 1998. As well as serving in Bosnia, I spent some time teaching skiing and survival training in Norway, which was an amazing time. I opted to remain in the reservists, but I haven't done a great deal of training of late, but I can still be called back at any time and I still have my basic kit ready to go if called upon.
What position do you hold in NG Bailey?
I'm a Mechanical and Electrical Engineer. I currently work as a Field Supervisor, covering the Midlands region, ensuring that contractors carry out work to the standards of NG Bailey and our customers.
What training have you received that transfers to your current job?
Whilst in the forces, I underwent a leadership training programme which gave me the skills to lead and motivate people. More importantly, serving in the forces gave me essential life skills, such as discipline and self-motivation.
Would you recommend being a Reservist?
Unfortunately, I was forced to reduce my involvement due to my previous employer, who was less supportive of my commitment to the Reservists. However, I did thoroughly enjoy my training as a reservist and would definitely recommend it to others.
How has NG Bailey helped you?
When I first left the army, I struggled to find a job. I sat in several interviews where interviewers would roll their eyes on seeing my military service in my application. There seemed to be a lack of understanding of what skills ex-military personnel could offer an employer. When I was interviewed by NG Bailey, I was offered a position at another company, but NG Bailey's support to ex-forces and Reservist personnel led me to join the business. After working for other companies who provided less support, it's really good to see what we as a company are doing.