17 Apr 2020
Supporting the Two-Week Delivery of Manchester's NHS Nightingale Hospital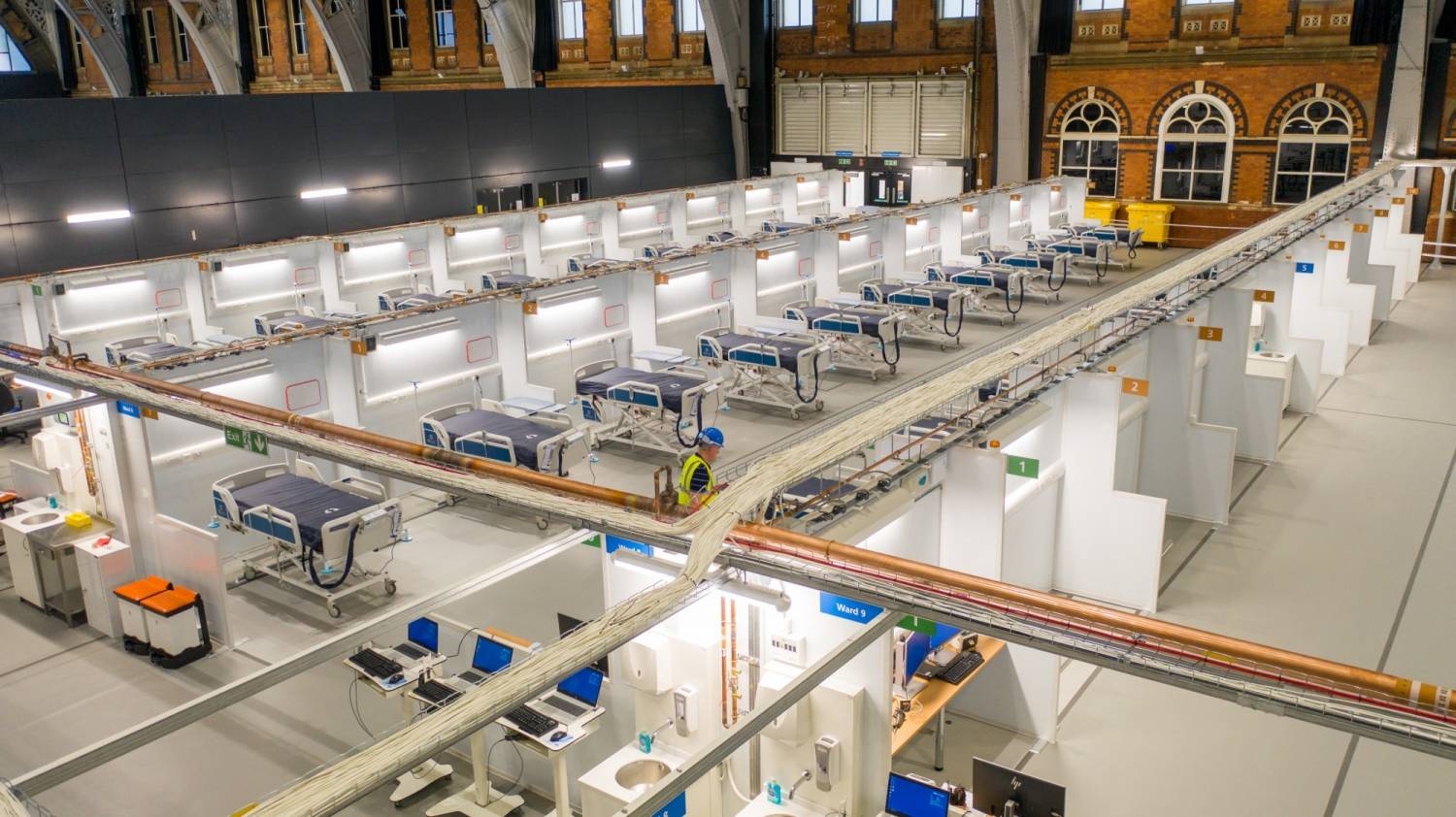 We are proud to have supported efforts to combat COVID-19, working as part of the team to deliver the Manchester Nightingale Hospital which was completed in just 13 days.
Delivered by Integrated Health Projects (IHP), the joint venture between VINCI Construction UK and Sir Robert McAlpine worked alongside NHS staff, the Army, Mott MacDonald, BDP and NG Bailey to deliver the hospital.
NG Bailey's Engineering and IT Services divisions formed part of the 1,000-strong team which worked 24-hours a day to complete the 750-bed hospital from scratch in a grade-2 listed building.
Officially known as NHS Nightingale Hospital North West, the hospital it is equipped to receive up to 750 coronavirus patients from across the region who do not need intensive care, but still require treatment.
The project has been an excellent example of collaboration across all construction disciplines, local government, the military and the NHS. Within 12 hours of receiving the go-ahead, the IHP was up and running, working in liaison with the NHS and the Army.
NG Bailey's Engineering, IT Services and offsite manufacturing teams installed and manufactured essential power, data and offsite services, including:
7.2km (4.5 miles) of copper pipework for essential medical gas supply
104.6km (65 miles) of data cable
864m of Unistrut support frames to carry essential services throughout the hospital
45km (28 miles) of power cable
633 bed head power units, produced using offsite manufacturing
1,520 data points
The hospital will be staffed by consultants, junior doctors, nurses, healthcare support workers, physiotherapists, pharmacists, occupational therapists, social workers, and a huge range of non-clinical support workers and administrators.
Professor Michael McCourt, the chief executive of the Manchester Nightingale thanked all of the contractors and suppliers involved, commenting: "It has been incredibly humbling to see all the hard work that has gone into building a hospital out of nothing and in such a short period of time. No matter what your role has been, without you, this wouldn't have been possible. Teams have worked day and night, in a challenging environment to achieve this and you should be very proud of your contribution.
"This hospital will play a crucial role in caring for Covid-19 patients and supporting hospitals across the region. By providing care for patients who no longer need to be in a critical care environment we will be helping to make sure the highest-level critical care beds are available for those patients who need them. This hospital will help save lives. On behalf of the NHS, the patients this hospital will care for and their families I want to say thank you."
David Hurcomb, Chief Executive of NG Bailey, added: "These are unprecedented times and we are proud to have played our part to deliver this critical support for people in the North West. It is only with the combined expertise and concerted effort from each of the partners that we have been able to deliver this huge undertaking safely and effectively, in such a short period of time."
John Roberts, of IHP and Regional Managing Director of VINCI Construction UK, said: "The commendation from Professor Michael McCourt sums up the enormous effort made by everyone across the project. The teamwork between contractors, the NHS staff and the army has been superb, and the project is an excellent demonstration of the partnership and commitment within the IHP team and our suppliers. Everyone has done a great job and on behalf of IHP I want to thank everyone involved particularly colleagues in VINCI Construction, Sir Robert McAlpine, Mott MacDonald, Archus, BDP and NG Bailey."