14 Apr 2020
Shortlist honour for Hospital and University projects
We are delighted to be shortlisted in the upcoming Constructing Excellence in the North East Awards for our work on the new Energy Centre at the University Hospital of North Tees and The Catalyst for Newcastle University.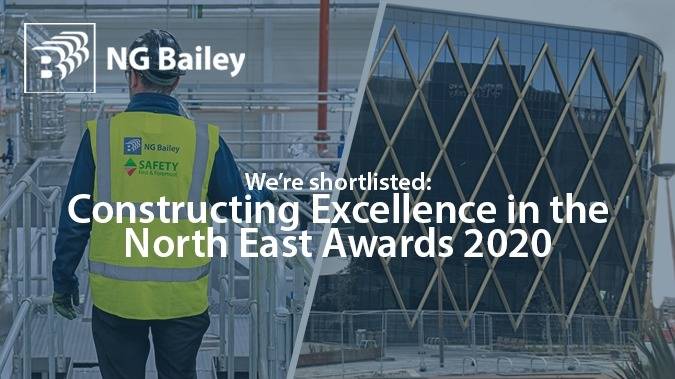 NG Bailey is shortlisted in the Digital Construction; Value; Offsite Project of the Year; and Integration and Collaboration categories for the Energy Centre. We are also shortlisted in partnership with Bowmer and Kirkland in the Digital Construction; Innovation; Sustainability; Integration and Collaboration; and Building Project of the Year categories for our work on The Catalyst at Newcastle University.

The Energy Centre at the University Hospital of North Tees was a £14m project which saw NG Bailey complete a Principal Contractor role to overhaul the hospital's energy supply as part of the Trust's ongoing Sustainability and Transformation plan. It involved the creation of a brand new services infrastructure and energy centre to give the hospital a more reliable supply and reduce their energy consumption and carbon footprint. All the work was completed without causing any disruption to the on-going operation of the hospital and patient safety was maintained at all times.
The creation of the iconic The Catalyst at Newcastle University is also recognised in several categories. Working with Principal Contractor Bowmer and Kirkland, NG Bailey completed the mechanical, electrical and plumbing installations. The Catalyst is a beacon for innovation and the first BREEAM Outstanding commercial development in the North East under current assessment criteria; one of only three in Newcastle and only 15 in the UK.