8 Apr 2019
New Charity Partnership with the British Heart Foundation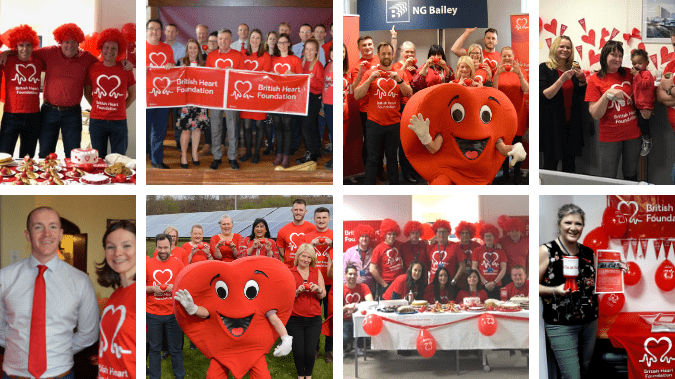 Last week marked the official launch of our new charity partnership with the British Heart Foundation (BHF) which will run into 2020 and aims to raise £75,000 for the charity.
Our charity partnership is a key pillar of our responsibility strategy, with the charity partner being nominated and voted for by employees each year.
The money raised will help the BHF to fund life saving research into heart and circulatory conditions such as coronary heart disease, stroke, vascular dementia and risk factors such as hypertension and diabetes.
BHF Area Fundraising Manager Jodie Shepherd said: "We are honoured that NG Bailey has chosen to support the BHF with their charity partnership this year. More than 1 in 4 people in the UK die from heart and circulatory conditions, so the money raised is vital for us to continue our research into better ways of diagnosing, preventing and treating patients.
As well as raising money during the year, employees will have the opportunity to participate in a number of BHF-supported health and wellbeing engagement activities, to ensure a healthier workforce.
David Hurcomb, NG Bailey Chief Executive said "We are delighted to be partnering with the British Heart Foundation, we have a long history of successful charity partnerships and we are looking forward to supporting the British Heart Foundation in their campaign to Beat Heartbreak Forever.